Colorado Springs School Districts
If you have children, knowing the Colorado Springs School Districts is a must. We've prepared this easy guide for you. In the table, click on the school district name to go to their website for complete information about the district.
Before the table, there's a map to show you how the Colorado Springs school districts are laid out. Click on the map to go to an interactive Google version of the map. If you see a home you're interested in renting, this guide will help you figure out what district it's in, and what each specific school district has to offer.
And if you're looking for a home to rent in Colorado Springs, make sure to give All Seasons a call at (719) 632-3368.
Click on the map below to go to an interactive Google version.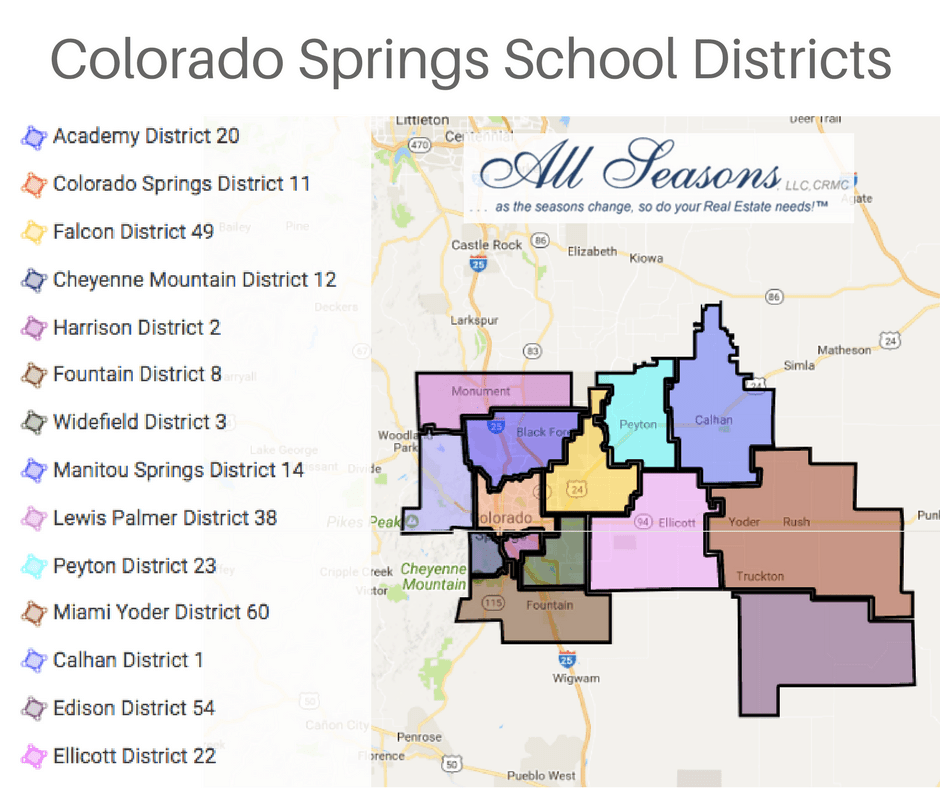 School District
Address
Phone
Academy 20
1110 Chapel Hills Drive
(719) 598-2566
Colo Spgs, CO 80920
Calhan RJ-1
P.O. Box 800
(719) 347-2541
Calhan, CO 80808
Cheyenne Mountain 12
1118 West Cheyenne Rd
(719) 475-6100
Colo Spgs, CO 80906
Colorado Springs 11
1115 North El Paso St
(719) 520-2000
Colo Spgs, CO 80903
Cripple Creek-Victor RE-1
P.O. Box 897
(719) 689-2685
Cripple Creek, CO 80813
Ellicott 22
395 South Ellicott Hwy
(719) 683-2700
Ellicott, CO 80808
Falcon 49
10850 Woodmen Rd
(719) 495-3601
Falcon, CO 80831
Fountain-Fort Carson 8
425 West Alabama Ave
(719) 382-1300
Fountain, CO 80817
Harrison 2
1060 Harrison Rd
(719) 579-2000
Colo Spgs, CO 80906
Lewis-Palmer 38
P.O. Box B, 146 Jefferson St
(719) 488-4700
Monument, CO 80132
Manitou Springs 14
701 Duclo Avenue
(719) 685-2024
Manitou Spgs, CO 80829
Peyton 23 JT
13990 Bradshaw Rd
(719) 749-2330
Peyton, CO 80831
Widefield 3
1820 Main St
(719) 391-3000
Colo Spgs, CO 80911
Woodland Park RE-2
P.O. Box 99
(719) 687-6048
Woodland Park, CO 80866
Colorado School for the Deaf and the Blind
33 N. Institute St
Colo Spgs, CO 80903
(719) 578-2100