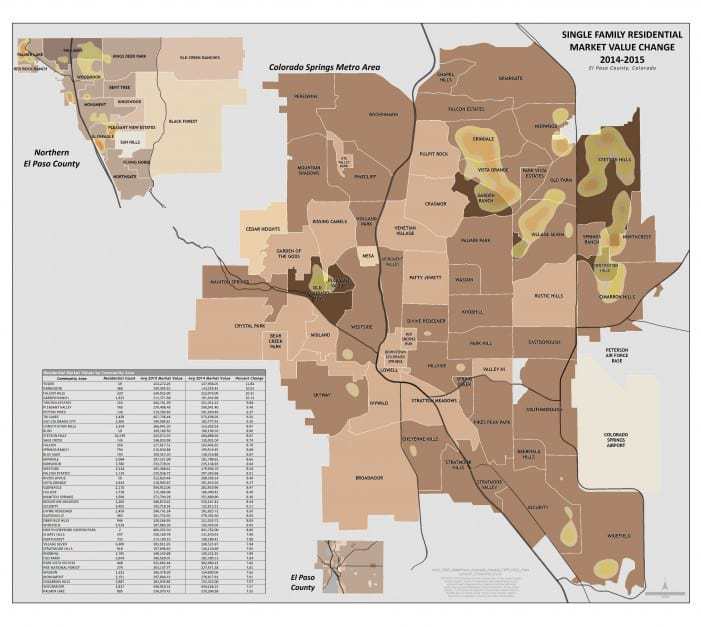 Bryan Grossman, of The Colorado Springs Business Journal, says that we're experiencing a Colorado residential real estate comeback, in a big way. CSBJ goes on to say:
Approximately seven years after the bubble burst heard 'round the world, residential real estate in Colorado is making a comeback in a big way. Demand is up and supply is down statewide, leading to increased residential property values and a market, depending on which side of the Palmer Divide you're on (see sidebar), that's one of the hottest in the country. More than 90 percent of residential properties in El Paso County increased in value during the assessor's 24-month study period beginning July 1, 2011, and ending June 30, 2013. The average increase was 8 percent. Teller County saw jumps of about 20 percent, while Douglas, Arapahoe, Broomfield and Jefferson counties had similar increases. Denver County's residential real estate owners witnessed an increase of nearly 30 percent. "There's a lot of pent-up demand," according to El Paso County Assessor Steve Schleiker. "Lending requirements became more strict over the past few years. The Millennials who have been living in mom and dad's basement have been saving up money, and interest rates are still pretty good." Schleiker said foreclosures are also down and buyers previously affected by the downturn have improved credit and are cautiously pursuing real estate again. "The biggest thing affecting the market is supply and demand," he said. "It's a seller's market. I've talked to a number of property owners who have put property on the market. The next day they have an open house and it's gone."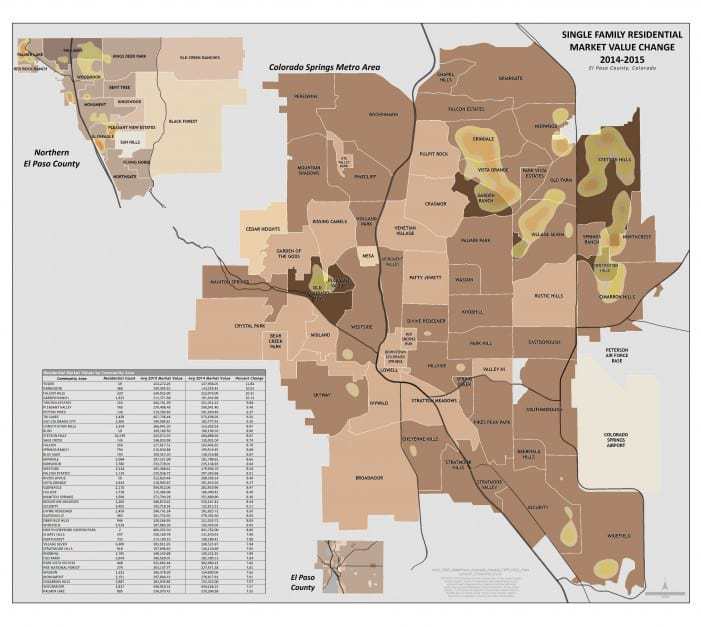 Bang for your buck
While the assessor's official numbers end in 2013, Joe Clement, broker and owner of local RE/MAX Properties' Clement Team, said the region's market had been on the upswing in 2014, but not necessarily across the board. "There are misconceptions. People think [the market] is hot up and down the spectrum, but the cutoff point is $370,000," Clement said. "They're the ones getting multiple offers, and some of those homes are on the market for 10 days and they're sold. As you get over $370,000 — the further away, the slower it gets. The $600,000 to $700,000 range has sold more than a year ago, but it's not hot, hot, hot." Realtor Jack Gloriod of the Gloriod Team agreed, setting the high end of the most desirable inventory at $400,000. He added that El Paso County could see rising demand over the next several years when northern Front Range counties grow too expensive for a large segment of cost-conscious homebuyers. "El Paso County is very attractive compared to the northern part of the state," Gloriod said. "Take a single price point for houses in Fort Collins, Boulder, Denver and here. You get a lot more bang for your buck here." According to Clement, the greatest fear for Realtors now is whether the Federal Reserve will increase interest rates, pumping the brakes on a runaway market. "I'm worried. You keep hearing [the interest rate] is going to go up and it hasn't," Clement said. "I don't know how long we can keep doing this. I'm hoping the rest of 2015 shows us low interest rates, but I'm concerned about 2016, '17 and '18."
Hot spots
Just as some price points are more popular than others, some neighborhoods are also capturing more than their fair share of the market. According to both Gloriod and Clement, one of the hottest places to buy is in Fountain Valley south of Colorado Springs, largely due to affordability and its transient market. "Fountain Valley sells like hotcakes," Clement said. "That's both military and not. … It's a booming area with a price point that attracts a lot of people. There are very few houses available, especially the lower in price you go. Fountain Valley turns over very fast — two months or less." According to an April 2015 market update compiled by the Colorado Association of REALTORS, there were 226 new listings in Fountain Valley in April, an increase of 9 percent over the same time last year. Sold listings went up 30 percent, from 133 in April 2014 to 173 last month. The median sales price increased from $199,500 to $206,000 — and inventory in Fountain Valley dropped nearly 37 percent during that time, from 603 last year to 381 at the end of April. The supply fell 47 percent from more than five months' inventory a year ago to less than three months' inventory today. According to the same data, the average single-family home's price in Briargate increased from $304,888 to $325,000 and inventory shrunk more than 43 percent. Along the Powers Corridor, the average sale last month was for $232,483, up 11 percent from April 2014. Houses remained on the market for 58 days, and there is less than two months' inventory. Falcon saw an inventory drop of nearly 66 percent, one of the largest declines in the region, with 41 homes on the market in April 2014 falling to 14 last month. The median sales price there jumped 28.8 percent over last year to $219,500. Even Black Forest, just two years out from the costliest wildfire in the state's history, is rebounding with a 24.5 percent increase in average sales price, up from $355,606 to $442,864. Homes selling in April 2014 had been on the market for an average of 171 days. Last month, properties remained on the market for an average of 98 days. According to Schleiker, areas affected by the Waldo Canyon fire also rebounded extremely quickly. "Mountain Shadows is looking really good, and values have increased," he said. "There's still some construction up there. When the fire occurred in 2012, this office placed a stigma on the neighborhood. We thought no one would want to live up there. "Believe it or not, we were proven wrong and sales didn't decline. They've actually been going up and we're starting to see increased values of those properties. They're building nice homes up there."
Another bubble?
Regarding the market's collapse less than a decade ago, neither Gloriod nor Clement feels concerned that the region would move that direction again anytime soon. "I don't see it happening here," Clement said. "Appreciation is at 7 to 8 percent. When you get into Denver and see 20 to 40 percent price increases, that's when you have a bubble problem." Schleiker also showed confidence that Colorado Springs and those areas south of Monument Hill would remain outside a bubble's blast radius. "I'm extremely pleased with our market," Schleiker said. "I believe in gradually moving up and, as far as the real estate ladder goes, [northern Colorado counties] are rockets." Schleiker said despite property values increasing on average less than 10 percent, El Paso County residents experienced "sticker shock" because values had consistently fallen for some time. "Values in most of El Paso County are still below pre-2007 values," Schleiker said. "When the real estate market went down, values took some significant hits. The reappraisal years of 2009 and 2011 saw a two-tier market. Some neighborhoods had just as many foreclosures as arms-length transactions. "This year is a strange year because we anticipated a heavy appeal period," he continued. "As of [last week] we had 1,100 appeals. Out of 246,000, that's not bad." In El Paso County, property assessments take place every odd year and this year's appeal window ends June 1. Schleiker said the month of May allowed property owners the chance to ensure the assessor's office has accurate information. "This is a great time for every property owner in the county to review [his or her assessment] just to make sure the assessor's records are correct," he said. "Does the assessor have the square footage correct? Do we have your bedroom and bathroom count correct? Do we have the basic model of the home? Two-story? Ranch? Take a look at the value data derived from 2012 and 2013. Do you agree with that value? If you don't, call us up." n CSBJRead the original story on CSBJ.com by clicking here: http://www.csbj.com/2015/06/01/residential-sizzles-into-summer/.