New data released by the Pikes Peak Association of REALTORS® (PPAR) for March 2019 showed inventory is low, so buyers in the lower price range are being outbid.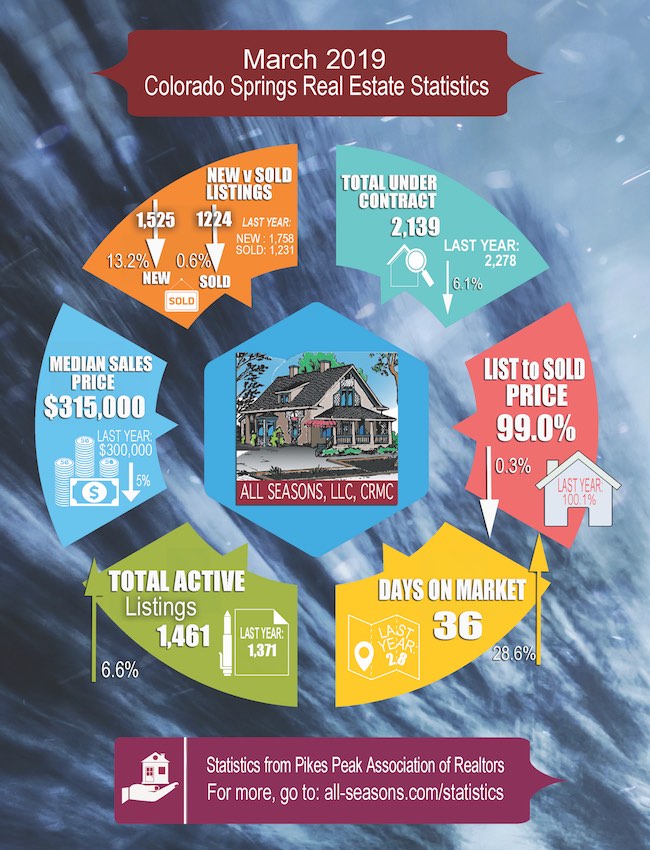 Because inventory is low, there is a strong demand for Colorado Springs rentals!If you think it may be too hard to rent out your home in Colorado Springs, think again! Our property managers are experts, guiding you through the process every step of the way. Call All Seasons today to find out how you can make money by offering your Colorado Springs investment property as a rental. (719) 632-3368
Single Family Home Sales Price
Median for March 2019: $315,000
Median for March 2018: $300,000
Result: Up 5% percent from last year. Home values continue to rise.
Average Days on Market
March 2019: 36 days
March 2018: 28 days
Result: The days needed to sell your home in March was way up. But we had a record-breaking storm, and many people were fixing up their homes. Days on Market increased by 28.6% from last year.
Year-to-Date (YTD) Total Homes Sold
March 2019: 3,048 homes sold
March 2018: 3,114 homes sold
Result: There are 66 less homes sold so far this year, but last year it was way up.
March 2019 Colorado Springs Real Estate Statistics: The statistic that stands out is the very low inventory of homes on the market. Since inventory is low, buyers in the lower price range are being outbid.
Because inventory is low, there is a strong demand for Colorado Springs rentals! If you think it may be too hard to rent out your home in Colorado Springs, think again! Our property managers are experts, guiding you through the process every step of the way. Call All Seasons today to find out how you can make money by offering your Colorado Springs investment property as a rental. (719) 632-3368