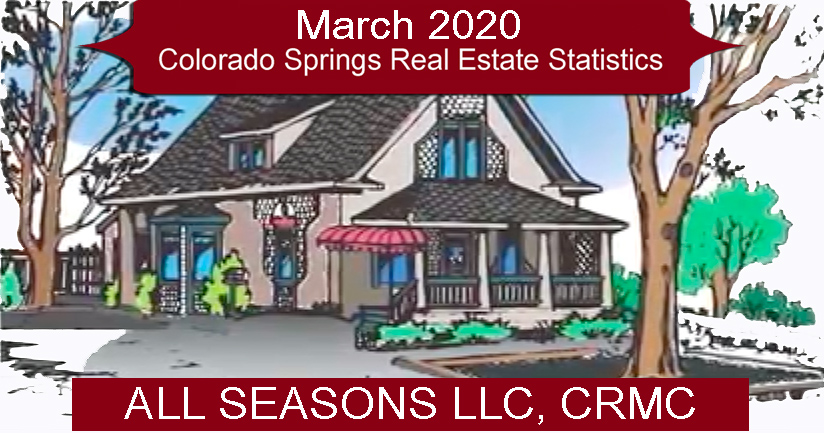 We hope that you and your family are staying safe and healthy during this unprecedented time. This month, I'd like to discuss the changes to the local real estate market due to social distancing restrictions. You'll find my take on how COVID-19 is affecting the real estate market right after the the infographic below. - Matt Rogers
Local market statistics released by the Pikes Peak Association of REALTORS® (PPAR) for March 2020, and the effect of COVID-19 restrictions on the local real estate market
Spring is usually time where the Colorado Springs real estate market jumps into high gear. It will be interesting to see how the stay-at-home restrictions will affect our local real estate market for the rest of this year. To see previous month's real estate stats, click here.
Because of the current market conditions, rental homes are more in demand than ever in the PPAR MLS. Call All Seasons today to find out the steps you need to take to offer your Colorado Springs investment property as a rental. With All Seasons, it's not as hard as you may think! (719) 632-3368
Single Family Home Sales Price
Median for March 2020: $352,400
Median for March 2019: $315,000
Result: Up 11.9% percent from last year. Home values still rising fast in our community. Good news if you already own a home, but the increasing prices make it harder for prospective buyers to afford home prices.
Average Days on Market
March 2020: 29 days
March 2019: 36 days
Result: The days needed to sell your home in March down 19.4% from last year. This means it takes less time for sellers to sell their home, and buyers must get their bids in fast.
Year-to-Date (YTD) Total Homes Sold
March 2020: 3,167 homes sold
March 2019: 3,048 homes sold
Result: YTD total homes sold is about the same as last year.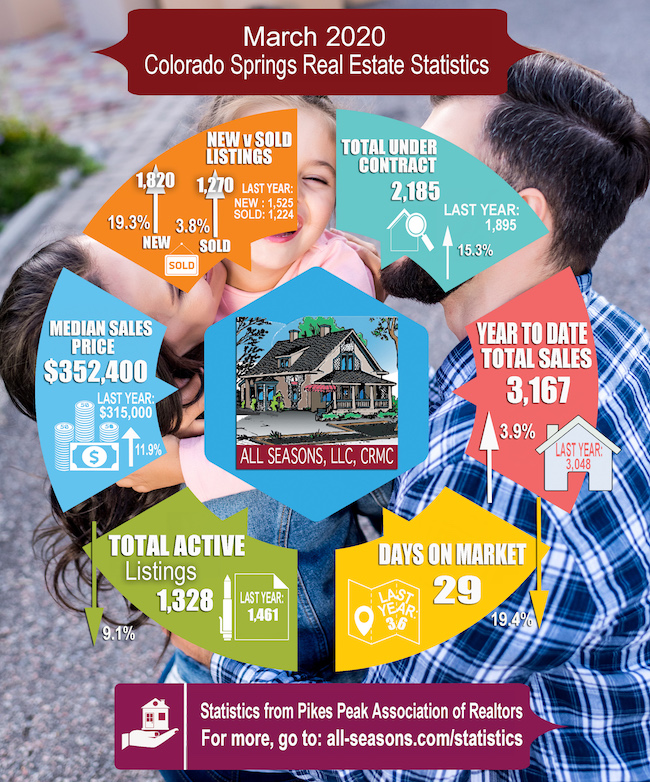 How COVID-19 May Affect the Local Real Estate Market
Before the stay-at-home orders, we were setting records in the Colorado Springs area in home prices and sales. The economy was booming. PPAR (Pikes Peak Association of Realtors) predicted we would break records this year based on current trends.
As predicted, 2020 had a very strong start, which will help boost the Colorado Springs market for the rest of year. The average sales price jumped from $364,000 in December to $390,000 in March, a 7% increase.
So far, March has not showed a slow down in the Colorado Springs real estate market. In fact, a surge of homes went under contract as COVID-19 created urgency for active buyers to contract a home before the stay-at-home order became more restrictive. Along the same lines, sellers pushed their homes on the market with the hope of quickly getting an offer.
The real estate stats since March 13th are showing only the sales contracted before the stay-at-home order. It will be interesting to see what happens in the market after April 13, 2020. Several factors will influence the new numbers.
Social Distancing
Agents can't show homes or do any other real estate work that involves meeting people effective 4/7/2020.
Layoffs
People are losing their jobs as businesses close or reduce hours. This changes their ability to qualify for a loan, and thus reduces buyer demand for homes.
Military Orders
The military is a big part of our community, and have a significant influence on our local real estate market. Military moves have been suspended through May 11thand rumor has it that this date will be pushed into July. How long it will take for the military to once again issue move orders will affect the selling season.
Mortgage Loans
Lender requirements, interest rates, and mortgage payment forgiveness are creating an insecure mortgage loan environment. This has potential to keep buyers out of the market and reduce the amount of demand.
Government Rules
Evictions in Colorado Springs are halted, and HUD has suspended all foreclosures. This will prevent loan modifications, short sales, and foreclosures. This will affect the number of distressed properties on the market.
Spring is usually the start of the busy season in the Colorado Springs market. Now, pent up buying and selling activity from the shutdown to cause a rebound effect when it's safe to resume business as usual. So the busy season might be delayed into summer or even fall.
Real estate is slower to react to economic changes than the stock market. The average 4-week contract time means it takes at least that long for changes that are already affecting the market to register in statistics.
One thing is for certain, home showings have dropped significantly. Here is a graph from Showingtime, a market stats and showing management technology provider at:https://www.showingtime.com/impact-of-coronavirus/
The data points represent a rolling weekly average in ShowingTime's 100 top markets, with each market recording tens of thousands of appointments in 2019 and 2020.