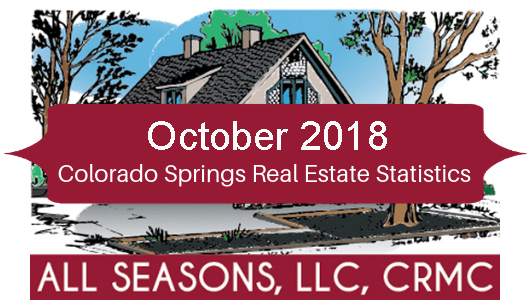 New data released by the Pikes Peak Association of REALTORS® (PPAR) for October 2018 showed another sales drop. On the other hand, median sales price increased by 8%. The market is shifting to favor the buyer.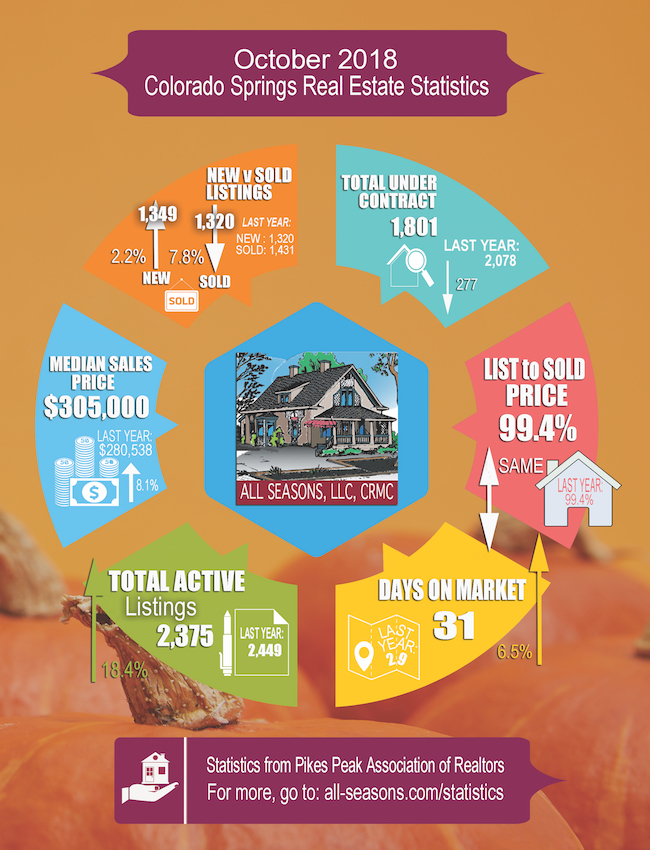 October 2018 Colorado Springs Real Estate Statistics: The median price of a residential home in the Colorado Springs region is $305,000, up about 8.1% from last year. More homes (2,375) are on the market as they are starting to sell more slowly in about a month, or 31 days. There is still a strong demand for Colorado Springs rentals!If you think it may be too hard to rent out your home in Colorado Springs, think again! Our property managers are experts, guiding you through the process every step of the way. Call All Seasons today to find out how you can make money by offering your Colorado Springs investment property as a rental. (719) 632-3368
Single Family Home Sales Price
Median for October 2018: $305,000
Median for October 2017: $280,538
Result: The median sales price of a home is still higher than last year, up $24,462, or 8.1%. Rental home availability is still low, so if you have an investment property you would like to rent, or would like to buy a property to use as an investment property, call us today! We'll help you get your home ready for the rental market, and keep it rented. Many families need these media-priced homes to rent.
Average Days on Market
October 2018: 31 days
October 2017: 29 days
Result: The average Days on Market is about a month, showing the selling pattern is becoming a buyer's market.
Year-to-Date (YTD) Total Homes Sold
October 2018: 13,417 homes sold
October 2017: 13,878 homes sold
Result: The number of homes sold Year-to-Date is down 461 homes from last year at this time.
October 2018 Colorado Springs Real Estate Statistics: The median price of a residential home in the Colorado Springs region is $305,000, up about 8.1% from last year. More homes (2,375) are on the market as they are starting to sell more slowly in about a month, or 31 days. There is still a strong demand for Colorado Springs rentals!If you think it may be too hard to rent out your home in Colorado Springs, think again! Our property managers are experts, guiding you through the process every step of the way. Call All Seasons today to find out how you can make money by offering your Colorado Springs investment property as a rental. (719) 632-3368