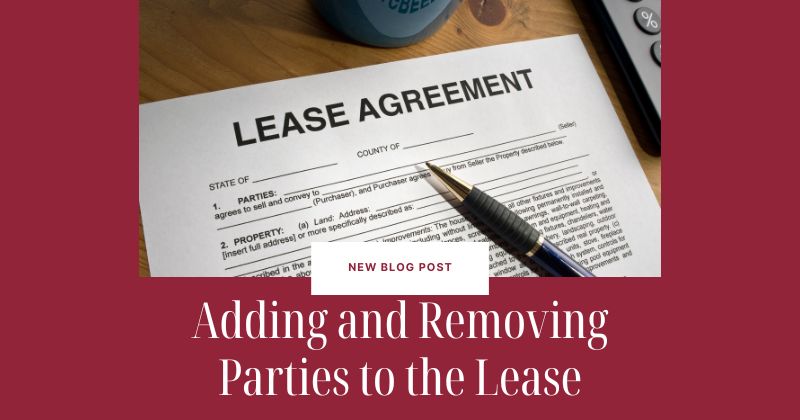 We do our best to ensure comfortable housing as living situations change and new parties would like to be added or subtracted from a lease. These changes are especially common with roommates, people enter new relationships, or as the size of a family changes. We have many policies in place to ensure that as things shift, we can make the process of adding or subtracting members of the Lease as simple as possible and with all Residents on the same page.
In accordance with the Lease, any guests residing at the property for an extended period of time must have written permission from All Seasons, LLC CRMC, and we may require that they be added to the Lease. Additionally, anyone residing in the property that is 18 or older must be named on the lease. If you wish to add an additional party to your lease, there is a process that must be followed.
The first step is for the existing Residents to complete an Authorization to Add Party to Lease form. Once our office has received this form, you can have the proposed new occupant fill out our rental application in its entirety, as well as provide all other required information, such as a copy of photo ID, pay stubs, rental references, etc. Our application process can be lengthy and difficult to navigate on a mobile device, so it is best to complete it on a computer. If you have any questions about the application, we have created an informative video going through all details and frequently asked questions about the process here. The application fee must also be paid at this time and is non-refundable, regardless if the party is approved to be added to the lease.
All Seasons LLC CRMC reserves the right to approve or deny any applicant. We also may simply choose to allow the party to reside in the home but not as a party to the Lease. In these instances, the new party would be considered an Authorized Occupant and it's crucial that those Residents who are a party to the Lease notify the party of any important communications from our office for Walkthroughs, Exterior Assessments, and other property visits. This is because the new party wouldn't receive notifications from our office if they are not a party to the Lease.
If the applicant is denied, they cannot reside at the property. All Seasons, LLC CRMC is a dedicated Fair Housing provider and strictly abides by all Federal, State, and Local Fair Housing Laws. You can view all of our qualifying criteria here.
If the application is approved, All Seasons LLC CRMC will send a notification to all current parties on the Lease, as well as the incoming party. The new party may need to come into our office to physically sign onto previous lease paperwork unless this is being done at the time of lease renewal, in which case the lease documents will likely be sent to all parties for electronic signatures. After the additional occupant has signed on to the lease, they are authorized to reside in the property for the remainder of the lease term. The original resident is responsible for providing keys to the new occupant. Please understand that all parties to the lease are equally and fully responsible for all terms of the lease. Additionally, it's important to keep in mind that All Seasons, LLC CRMC reserves the right to choose whether or not to release parties to the lease midterm. An administration fee will also be charged to your account for this change to your lease. More information on the process can be found here.
If a Resident desires to vacate midterm, all parties on the Lease would need to complete a Roommate Notice to Vacate form. This can be found on our website under Resident Resources. After this form has been completed, you can choose to email it to your Property Manager or drop it off at our offices at 1610 S Tejon Street, 80905.Your Property Manager will then review the form, and may request additional information to verify that the parties wishing to remain on the Lease qualify to continue renting the home. If the request is approved, the Roommate Notice to Vacate will be signed and all parties to the Lease will receive notification of this lease change. The applicable administration fee will then be assessed against the account. More information on Removing Parties from the Lease may be found in the short informative video here.
Adding and subtracting parties to a Lease can be stressful! We're here to answer any questions you may have and will assist in any way that we can. If you have questions, give us a call at 719.632.3368 or email your Property Manager.