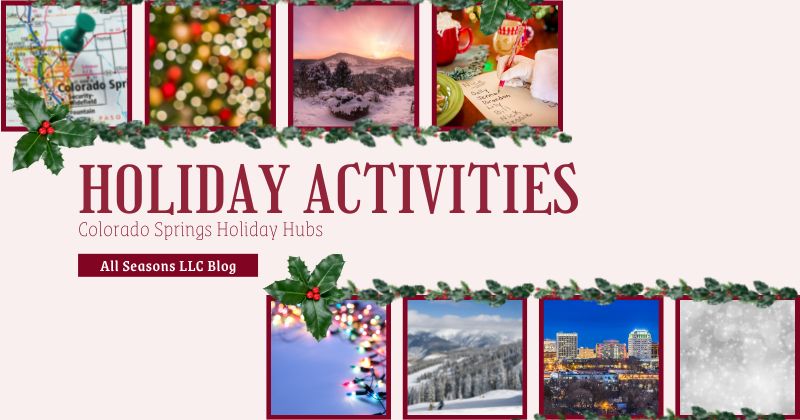 Colorado Springs is a hub for holiday activities. Whether you have kids, or want to spend some time with your friends and family, there are many activities for every age. We hope this guide gives you some ideas of some great local activities you can do to celebrate the season.
Enjoy the Mannheim Steamroller concert at the Pikes Peak center. Click here for details on tickets. This event is December 27th.
Skate in Acacia park is open until the 31st of January. This large outdoor skating rink in the park is beautiful with the mountains as a background. This is a fun and great way to spend time with the family and enjoy the outdoors during the cold season. Click this link for information on open hours!
If you have children, the Electric Safari at the Cheyenne Mountain Zoo is a festive way to celebrate the season. With a light show and inflatable parade, Santa, interactive feeding with giraffes and birds, restaurants and activities, this is a fun activity for the whole family. View this link for details and tickets!
Support local artists at the Holiday Market at the Commonwheel Artists Co Op. The co op offers a great opportunity to buy gifts or seasonal decorations offering products from many local artists including ornaments, clay art, photography, glass, cards, soap, fiber, sculpture, jewelry and wall art. View the Commonwheel website here for details!
View Colorado Springs from the sky with Colorado Vertical to see the holiday lights and winter nighttime sky in style. They offer a heated and comfortable helicopter so that the lights can be seen from the skies. This experience would make a great gift or holiday experience for a flight enthusiast. View this link for details.
The US Olympic and Paralympic museum has many events throughout the season for the holidays with craft days for younger kids. View their event calendar here to see what's upcoming!
See the winter lights at Seven Falls! A spectacular waterfall and light show with over 100,000 lights is a beautiful celebration for any age. Do good this season as portions of the ticket proceeds go to Springs Rescue Mission and the El Pomar Empty Stocking Fund. View this link for details and to buy tickets!
It's tradition to take young children to see Santa. View the Visit Colorado Springs website to see where he will be throughout the season for photos and fun. View their site at here to see when and where he will be next!
Colorado Springs is a beautiful place this time of the year with the snowy mountains and great atmosphere. There is a great array of local activities for any age. All Seasons wishes you and your families a happy and safe holiday and we hope that this guide helps you find something fun to do with your family this season.