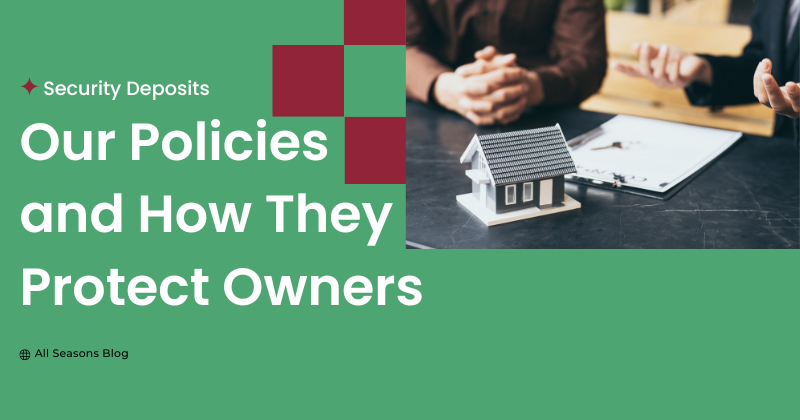 All Seasons, LLC CRMC does our best to ensure that the owners and tenants we work with are protected throughout the course of doing business with our firm. When placing your investment in the hands of someone else, it's important that you feel confident in how that party will oversee the account. Unfortunately, there are unavoidable cases when tenants vacate and cleaning is needed or in some cases, damage is left behind. This is why security deposits are crucial to our process. Prior to a tenant moving into one of our managed properties, we require a security deposit be paid. After the tenant moves out, we use that deposit to address any damages or cleaning deemed to be necessary, before returning the balance to the former tenant.
Damage can occur in any property, but that risk is amplified when there are pets. When leasing homes to tenants with pets, we require an additional amount of security deposit per pet. This is over and above the normal security deposit that would apply and goes towards taking care of any and all cleaning or damages – not just those that are pet related. Pets can do damage to lawns, carpets, and more. We require an enzyme treatment be performed with the Move Out carpet cleaning for any tenant that had a pets. This is to best ensure any potential issues with the carpet that were caused by the pet are properly dealt with. In rare instances, when carpet has been too far damaged by a pet, replacement is the only solution. In those instances, we must take into account the age of the carpet before assessing any portion of the replacement cost against the security deposit. We cannot legally charge additional security deposit for fees for parties with verified service or assistive animals, and they are not considered pets.
Besides using the security deposit to return the home to the state the tenant received it in, minus "normal wear and tear", we can also use it to cover any balance the tenant has at the time the security deposit accounting takes place. This could include past due rent and other fees.
How do we determine what charges are tenant responsibility? To protect both owner and tenant, we make certain that the property is at the exact same level of maintenance and cleanliness from one tenant to the next. To do this, we do a thorough video documentation of the property just prior to each tenant moving in and again, just after they have moved out. During our Move Out Video, we identify what work needs completed ahead of the next tenant taking possession of the home. We have an extensive checklist of maintenance to ensure everything is kept at the highest level of care – from larger items such as carpet and landscaping to minor details like filling nail holes and touching up paint. Tenants can be sure that they will not be charged unfairly for issues that were pre-existing when they took possession of the property, nor those items considered "normal wear and tear". We also have new tenants fill out a Move In Condition Report to serve as their opportunity to document any issues or concerns they have with the property shortly after moving in. We use the Move In Condition Report in conjunction with our Move In and Move Out Videos to determine security deposit deductions.
Of course, we prefer to minimize deductions from the security deposit. Prior to the tenants moving out, we provide them with a reminder of the strict cleaning requirements that were agreed upon within the lease, as well as a list of vendors that we trust to perform move-out cleaning, carpet cleaning, yard work, and general maintenance. While tenants are not required to hire our preferred vendors, there are many benefits to doing so, including the chance to receive their security deposit refund in ½ the time it normally takes. This means that the security deposit refund will be sent out within 30 days of the tenant vacating. We're able to offer this expedited security deposit accounting because we can rest assured that the work performed will meet our standards. This minimizes the time needed to collect invoices, do research of documentation, etc. If tenants do not participate in our "Expedited Security Deposit Disposition Program", we must send the security deposit accounting and refund within 60 days of their lease termination. The Security Deposit Disposition breaks down any and all deductions from the security deposit, and includes receipts for work performed. This is just another way we maintain transparency.
All Seasons, LLC CRMC strives to be as fair as possible with all parties when it comes to the security deposit process and the security deposit goes through several sets of eyes in our office before the charges are made official. Even with these extra steps taken, mistakes can happen. In those rare instances, we do welcome the tenant to submit a formal written dispute and we will review our documentation again ahead of issuing any additional refund we determine to be warranted.
Laws revolving around landlords, tenants, Property Management, and security deposits are ever changing. If you have an investment property in Colorado, we would strongly encourage you to join the CLLC (Colorado Landlord Legislative Coalition) to stay on top of potential legislation that could affect you. You can learn more here: https://coloradolandlordlegislativecoalition.org/
We pride ourselves in preserving your investment! If you're interested in our services, please visit our website or call 719.632.3368. We'd love to see if we're a good fit!