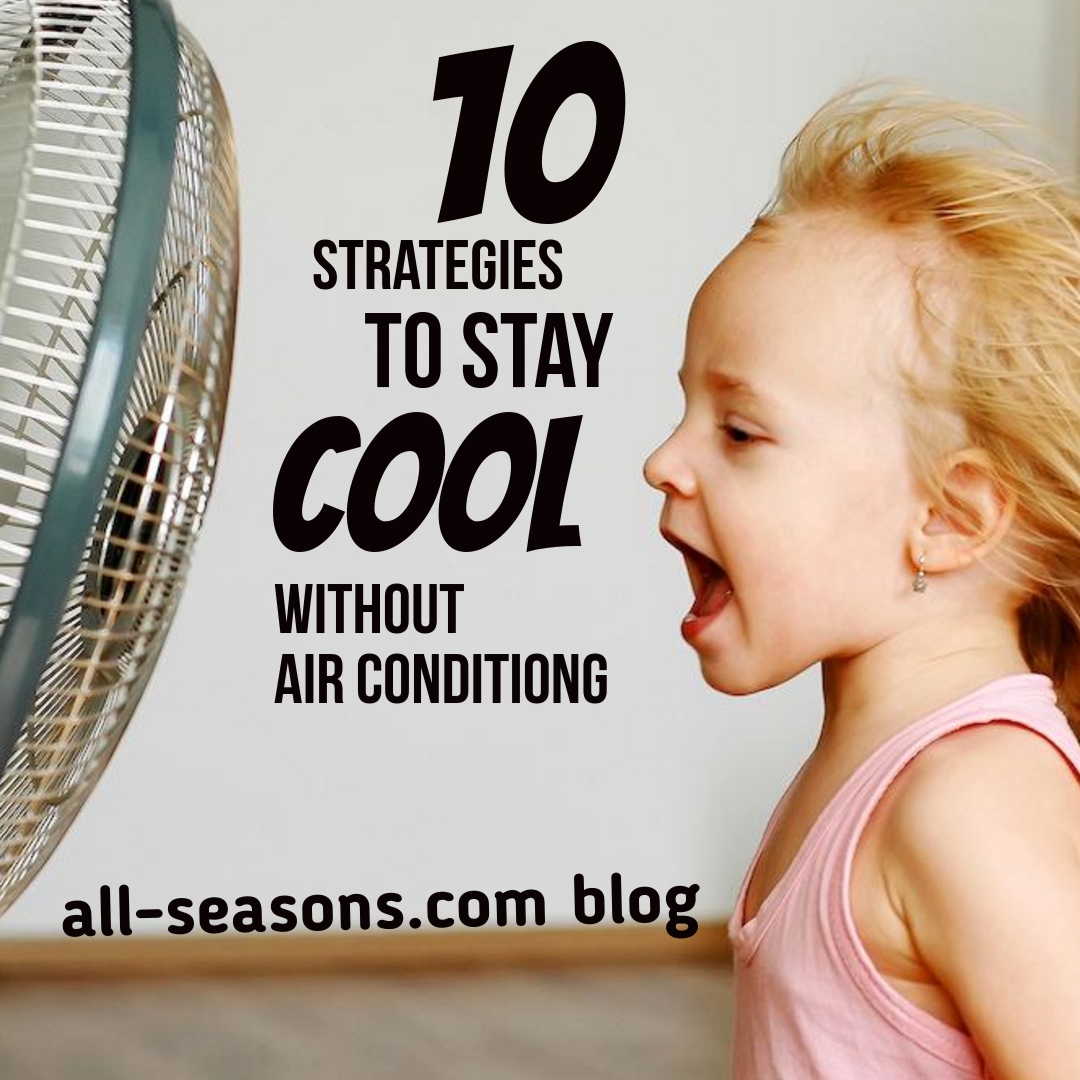 10 strategies to stay cool without air conditioning[/caption] Summer in Colorado without air conditioning can be anything but cool. Most older homes in Colorado Springs were built without central air. So be strategic! Here are 10 strategies to stay cool without air conditioning.
1. Water the body
In other words, stay hydrated. You'll feel cooler. Try to drink at least 8 ounces of water every hour. Refresh your water with mint leaves, citrus slices, or cucumber.
2. Spritz the skin
Fill a spray bottle with water and adjust it to a fine mist, and spray it on your skin. There'll be an instant cooling sensation. Use your favorite scented oil to make it smell great! You can buy misting fans. You can check it out some here: https://amzn.to/2u6Ecc2
3. Cool the washcloth
Stack wet washcloths in the fridge or freezer. Apply them to areas where your veins are near your skin to make that coolness travel! Try your wrists, your neck, your thighs, and your ankles. There are also gel packs you can buy that stay cool longer than a simple washcloth. Here's a link to check some out: Here's a link to look at some: https://amzn.to/2KIpvGi
4. Wet the sheet (really)
Try it! Wet the sheet you cover up with at night, then place it in the fridge or freezer for awhile before you turn in. You'll be in cool heaven! If you want to spring for it, you can actually buy cooling pillows and sheets.
5. Go underground
If you have one, a basement can save you during a hot summer. Put in a futon and a flat screen, and you'll be cool all summer.
6. Maximize your fans
If you get up before the sun, open your windows and set fans to blow the cool morning air inside. As the sun hits the house, close the windows and draperies. Open the windows on the cool side of the house, and put fans near them to blow in cool air. Keep this configuration moving during the day. Set your ceiling fans counterclockwise. This will draw up hot air and while circulating a cool breeze, and can make a room feel up to 8-degrees cooler. Another good fan trick is to set a metal bowl of salted ice in front of a fan, and aim the fan at the bowl. This is good to cool one room. Try setting the ice behind the fan, too. Re-use the same water and salt by refreezing it.
7. Block the sun
Close all windows and keep exterior doors and windows closed throughout the hottest part of the day. Do this until night falls and it's cool enough to open the windows for the night. Angle your blinds up, so that if you are looking through them you can see the ground, not the sky. For even better protection, get cellular, insulated curtains, or window tint film, which, like car tint, looks like a dark or shiny part of the glass itself. Look at some examples here: https://amzn.to/2L0xzOC
8. Wear the cool
Natural fiber, loose clothing will help you keep your cool. Avoid polyester, rayon or any artificial fabrics. Stick to light colors that reflect rather than absorb heat.
9. Stock your freezer
Popsicles! Who can resist? There are low-calorie options.You can make them yourself, and fill them with frozen fruit. You can eat frozen fruit by itself. Also, frozen mixed veggies can make a cool, tasty snack. Use that freezer!
10. Spring for conditioning
The window air conditioner works to cool a room where your family gathers, or for your bedroom. They're not expensive, and if you look for it, you can find a used one for little money. The mobile air conditioner is great new product, and can be moved to any room, not needing a window to vent it. You can take it room to room with you! But they can be pricey. Here are some examples: https://amzn.to/2zxTZG3
Summary
So whether you don't have air conditioning, don't want to turn it on, or want to save money on energy, there are good strategies for beating the heat. Enjoy your summer, and stay cool!
Here's some info about summer heat and All Seasons:
The All Seasons, LLC, CRMC Lease will always clearly reflect whether or not a Property has A/C. Residents should not assume a Property has A/C because there is a "cool" function on the thermostat, as that comes standard on most thermostats - not just for properties that have A/C. If the Property does not have A/C, they may want to look into the portable evaporative cooling units the major box stores offer or possibly install a window A/C unit. If they install a window A/C unit though, they should check in with the HOA (if applicable) to ensure that these are allowed. Many HOA's are prohibiting window A/C units. Additionally, it's recommended that the Resident hire a professional to install a window A/C unit in order to avoid costly damage.
Note: The kinks provided in this blog are for informational purposes only, and not affiliated with or recommended by All Seasons, LLC, CRMC.