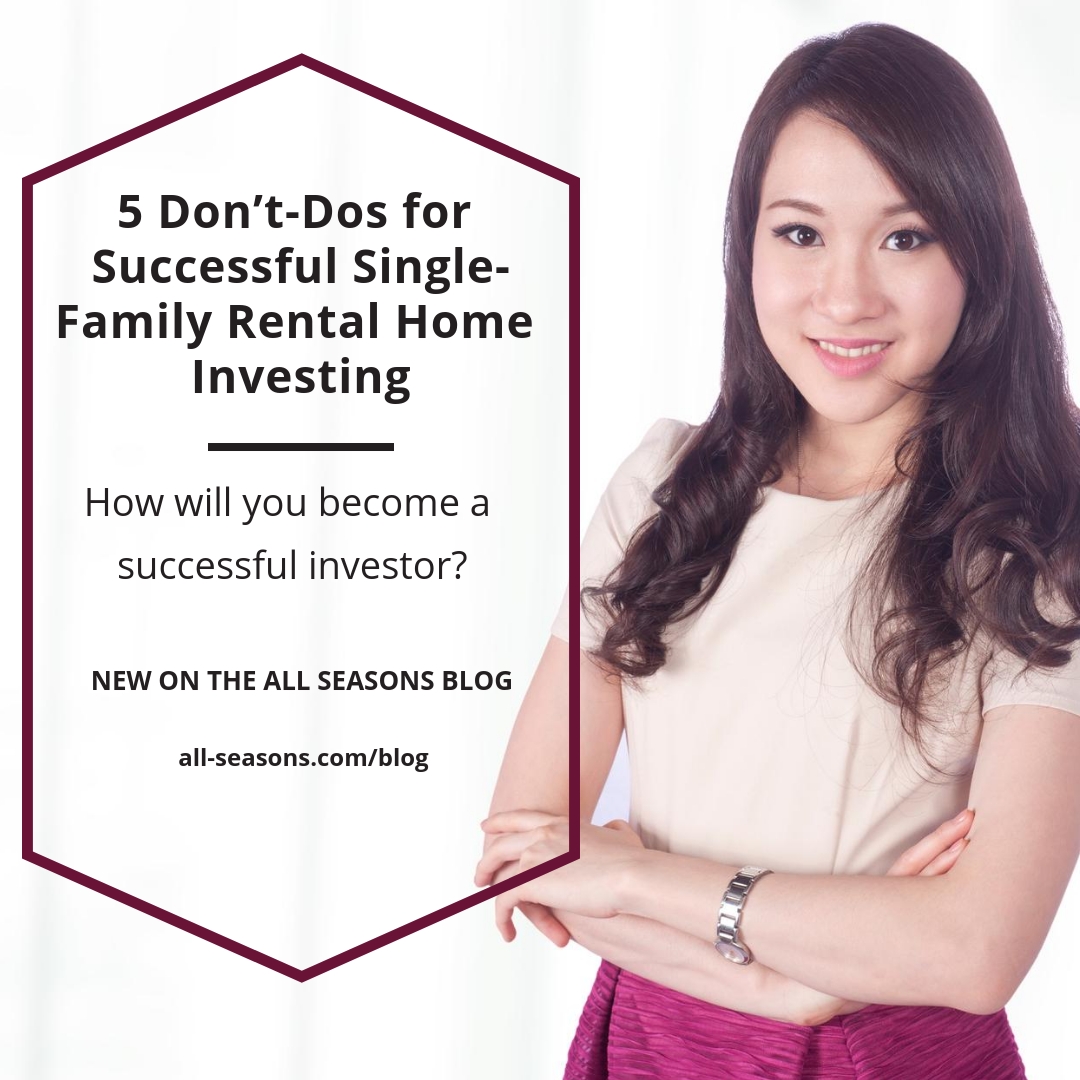 Right now, 1/3 of all rental properties in the USA are single-family rentals, due to almost double by 2030. That means this is a good time to invest in this growing market. Here are 5 don't-dos for successful single-family rental home investing.
1) Don't wing it - Set well-defined investment goals
Clearly define your objectives. Interested in safe markets, in low-risk suburbs? These are like low risk stocks, meaning consistent, slow growth. Another option is in stressed properties, or homes in areas being reclaimed by gentrification. These properties may be higher risk, but have greater long-term payouts and higher yields.
2) Don't stay home - Invest in growing markets everywhere
With good property managers, you don't need to stay local with your investments. Research your properties nation-side, and then spread your risk by investing in several different markets.
3) Don't concentrate on operations - Learn to delegate
You're in the investment business. Don't get sidetracked by the day-to-day running of your rentals. Hire property managers to maximize your profit and your time, and minimize losses due to property damage or long vacancies.
4) Don't expect instant gratification - Keep on truckin'
Long-term wealth development takes patience. Don't expect instant wealth. Hang in there, very your investments, hire good property managers, and your profit will grow over time.
5) Don't go it on your own - Identify and use available tools, resources, and managers
Technology is a wonderful thing. You can virtually travel to different markets throughout the USA to view and purchase properties. Then hire a property manager to run that property and check out your earnings online. Make use of all the tools you can find to keep the investment and management processes simple.
Summary
The single-family rental home market is huge and growing. Totals in 2018 around $3 trillion, with millions of homes trading hands every year. The investment opportunities are high, and it's never been more accessible than it is now, with technology allowing the investor to have virtual control over his investments.
All Seasons, LLC, CRMC manages properties in Southern Colorado for clients all over the globe. Not only are we Certified Residential Managers, we are real estate experts that can help you buy and sell your investment homes. Call us today at: (719) 632-3368 for more information. We can help you make the right investments, and operate them smoothly. Let us help you build your future!