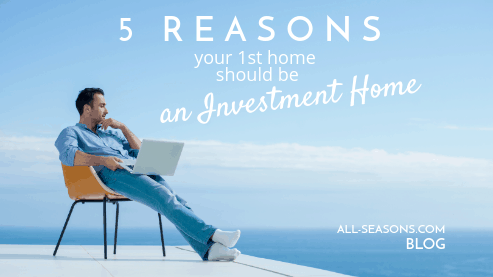 If you watch real estate, you've seen home prices hit record highs. Studies show that people born in the 80s are making less than they expected, may have student loans and a higher cost of living. By turning your first home into an investment property, you can combine the benefits of owning property to make money with the benefits of renting to keep your expenses down. All it takes is a little bit of smarts and real estate shrewdness. Here are 5 reasons your first hoe should be an investment home.
1. Change your address anytime
If you live in the first home you purchase, you're more likely to settle in that home. But if you're young, and interested in developing a rental home portfolio, you want flexibility. Using your first purchased home as a rental property gives you the freedom to change your address to other neighborhoods and even states, while still having the future growth and stability that home ownership provides. If you hire a good property management company to look after your property, you maintain the freedom to move when and where you want by using short term (generally 12 month) leases. At the same time, your purchased rental home will be gaining value, allowing you to put money away for your next investment property purchase.
2. Pounce on distressed property
Buying right now can be difficult, because demand is far higher than supply. But this can work to your advantage, as this means rental properties are also in high demand, so your property will stay rented while its value increases. The trick is getting into that first home to rent out. One way to enter the market is by taking advantage of distressed sales—properties that have been foreclosed on that the bank sells at less than market price. Buy a distressed sale property, do the necessary repairs, and you'll raise the value of your property to fair market value, especially as prices continue to rise. In order to get a great deal on a distressed property, you have to act quickly. If you stay in your rental, you don't have to hem and haw about whether you could live in the neighborhood where the property is or move out in time. If you're not planning to live there, you can pounce and put an offer on the property instantly. That means you're more likely to get that good deal. When you rent that property out, someone else will pay your mortgage while the property gains value - giving you the money to expand your portfolio.
3. Live in one zip code, own in another
Many new investors don't want to buy distressed properties because they plan to live in the home themselves. But if you rent your first purchased home, the neighborhood of the property you want to purchase is not important. You can live wherever you want to live while you fix up and rent the property. Keeping this in mind gives you many more opportunities to increase your investment portfolio! If you see a great bargain, but it's in a neighborhood you don't want to live in, who cares? Snap it up and stay happy where you're renting.
4. Work toward your dream home
You've always wanted to live in The Broadmoor area, but know it's much too expensive for you right now. No problem! All you need is the patience to work toward that goal. If you're not going to live in the first property you purchase, you're more likely to take advantage of good deals when you see them, no matter what neighborhood they're in. So buy that distressed property on the West Side, or in Village 7. Fix it up, rent it out, and you're one step closer to having the money for that place you love on Lake Avenue.
5. Keep your wallet fat
If you're in a 1-bedroom and are keeping bills to a minimum, you can maintain that lifestyle even after your first home purchase by renting it out. A tenant will typically pay enough rent to cover your mortgage and higher utility bills while the property gains value. Who can argue with that?
You want a Gold Mine, not a Money Pit
Although all this sounds good, remember that owning an investment property is not always easy. (See our recent article for more on this: Is Self-Managing a Big Mistake for New Landlords?) Being an landlord can be a full time job, and knowing when and how to maintain your new property is also difficult. Although investing in a rental property as your first home is a great idea to build your portfolio and add income to your monthly bottom line, you may need some help after your purchase. Consider hiring a great property management company like All Seasons, LLC, CRMC. We have 32 years of experience managing properties in the Pikes Peak Region, and can help you make your investment properties into gold mines, not money pits. We can not only help you find your first investment property, we can help you manage and maintain it, and keep a good tenant in it for as long as you own the property. When you're ready, we can help you sell it, too. Remember, an investment property is only profitable if its managed properly. Leave it to the experts. Call All Seasons today at: (719) 632-3368. If you'd like to read more about making your first home an investment home, here are some links to start with: RealtyTimesRealEstateViewSmartAsset