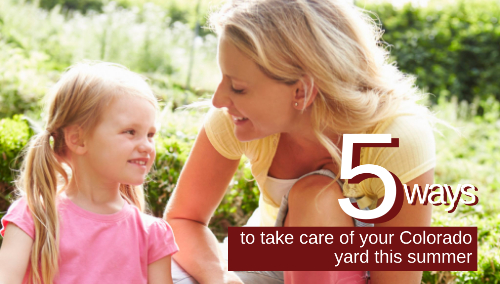 Whether you're renting or own your home, the yard is a great place to create family moments to remember. Stay-at-home orders make your yard even more important, as it becomes a family place to eat, play, learn, and spend time in nature. Summer months bring heat and dry weather, which means watering. But you have to remember Colorado Springs's Water Wise rules (New Permanent Watering Rules for Colorado Springs), as well. Here are 5 ways to take care of your Colorado yard this summer.
Planting
Most people plant in spring. It may not seem obvious, but keep planting all summer to keep your landscape fresh. There are bulbs that are planted at different times of year and fall vegetables. Bushes and trees can be planted at any time during the summer.
Harvest cool-season crops as they mature, and before consistent hot temperatures set in. Vegetables and herbs will bolt (go to seed) during hot weather. Leave a few to form seeds for use next year. Plan to seed cool-season vegetables later in the summer for fall harvest. Some cool weather veggies are: turnips, beets, carrots, spinach, and radishes.
Watering
New plantings need consistent water to establish strong roots for the winter. Try hand watering the first year. You'll stay within Water Wise rules, can control the amount of water you use on each new planting, and you'll get a front seat to watch your new plants grow.
Water your lawn deeply with your sprinkler system only when your lawn needs it. How do you tell? Walk across your lawn and if you see footprints, it's time. Twice a week should do it. Water long enough to reach the roots—about six inches deep.
Love your tomatoes? Vegetables need 1/4 inch of water per day, so water deeply about every three to four days. Hotter, drier weather may require more frequent watering. Treat container plants as you do the rest of your garden.
Mulching
Renew wood mulch around your ornamental plantings and borders not only for beauty, but for easy weed-pulling and consistent soil moisture. Use grass clippings or straw mulch around vegetables, but avoid using thick piles of mulch that block water and air. The right amount will keep the soil temperature even and the water from evaporating too quickly.
Fertilizing
Fertilize vegetable and ornamental plants consistently—twice a month is enough. Always read the package directions. There are 3 numbers on the fertilizer. The 1st number is for foliage or leaves, the middle number is for fruit, and the last number is for roots. For example, pick a fertilizer with a high 1st number for the lawn, as you want the leaves to grow strong.
Deadheading
The process of snipping off old blooms from plants is called deadheading. Cutting off or snipping old flowers will encourage the plant to make new flowers. Cut back to where the flower stem meets the main stem. Remove spent rose blooms down to the 1st or 2nd five-leaf set.
Make Gardening a Family Affair
Getting the kids involved with gardening at an early age teaches love of nature, cause and effect, and responsibility. They'll not only have fun and gain a sense of accomplishment, but they'll learn to understand basic truths like "You harvest what you sow." Especially now that kids are learning at home, everything you do can be a teaching moment. The yard is a perfect place for a classroom!
(To read more about this subject from the Denver Post, click here.)