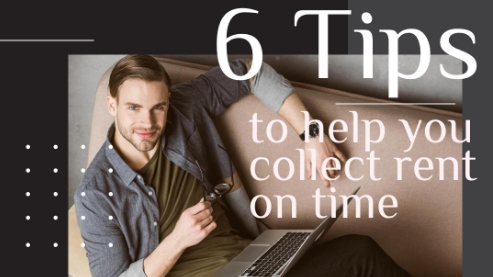 6 Tips to Help You Collect Rent on Time
You're happy! You finally have a few investment properties and have rented them out. But your joy comes to a snag the first time one of your tenants doesn't pay on time, and you have to cover the mortgage payment yourself. This is not going to make you money if it's taking it out of your pocket. And your properties won't bring in passive income if you're chasing rent! Here are 6 tips to help you collect rent on time.
1. Encourage recurring auto-pay
How many times has a tenant said he "forgot" to pay? If you offer online payments, also offer a recurring payment option. This saves time for you and your residents.
If you have a tenant that says they forgot, tell them that if they start recurring payments immediately, you won't ding them. It will make the whole process less stressful for you both.
2. Automate payment notifications
These days there are many ways to automate notifications and reminders so your tenants won't forget to pay. You can set these up through text, email, or both. Take it one step further and include a link so your tenant can simply click on the reminder to make a payment.
3. Offer incentives
A great way to encourage residents to keep their rental payment history on the good side is to offer credit reporting as an incentive. Set it up so that monthly rental payments made through your payment portal are reported to credit agencies, so your tenants can build a positive credit history for when they want to buy their own home.
I recently saw one property management company that gives away a $25 Amazon Gift Card every month through a drawing in which all tenants who pay on time are entered. Any incentive can go a long way!
4. Accept payment by phone
Some people are just more comfortable calling in and talking to a live person to pay their rent. Try to make this possible. For the more tech-savvy, make sure your tenants can pay in some way using their cellphone, so they can pay their rent even if they're at the doctor's office. This way, they can pay when they think about it.
5. Offer flexible payment options
Property managers are well aware how different people are! The more different ways you have to help your tenants make that big payment every month, the more likely you are to get paid on time.
Having the option to pay online is important. Also offer options like PayPal, credit card, or CashPay. This will allow your tenants the options they need to make that one big payment.
6. Hire a property management company
As property management companies are set up to handle multiple tenants, they have built-in systems for collecting rent on time and in full.
All Seasons LLC, CRMC offers many options to tenants to make paying easy. We accept "in person" or mailed payments via check or money order. We also accept payment of rent through the Tenant Portal directly from our website.
If tenants use the Tenant Portal, they can either pay using credit/debit card (for a fee), with auto pay e-check or a one time e-check. There's no cost to the tenant for using the e-check, so that's what most of our tenants do.
If you are an owner and you hire us to manage your property, we will make sure that rent is collected, and transferred to you promptly. You can check through our online system to see that your money has been deposited. You don't have to worry.
If chasing rent money isn't part of what you enjoy doing, hiring a property manager is a good step. Call just today to find out how we can help you! (719) 632-3368