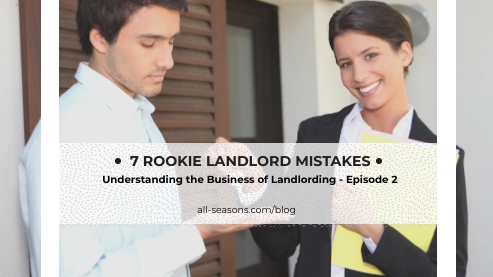 Understanding the Business of Landlording, Episode 2
Becoming a landlord can be profitable, but it's not a passive investment. Success means hard work and savvy. Here are 7 rookie landlord mistakes to avoid.
1. Not properly planning for expenses
When adding up investment property costs, you'll think of mortgage, insurance, and taxes. But also remember expenses like utilities, garbage, yard work, HOA charges, and general upkeep.
You also need enough put away for emergency expenses and big-ticket items. And remember that if the property is vacant, no one but you will paying for these costs.
2. Not screening prospective tenants
This may seem like a no brainer, but when you're looking at another month without a tenant, it's easy to just accept whoever comes your way. The quality of your tenant is an important 1st step toward profit and placing a tenant that's not been properly screened could be very risky and cost you money in the long run. Always check the applicant's credit and previous rental history, at a minimum.
3. Not thoroughly explaining renter's insurance
If it's legal in your state, requiring renter's insurance could save you and your tenant some heartache. If you can't require tenant insurance, make sure your new tenant completely understands the risks he's taking is his own without insurance, and that your landlord insurance does not cover his possessions. While renter's insurance generally protects only the tenant's belongings, it can avoid frustrations from the tenant if something like a flood occurs and affects their personal items.
4. Not understanding your local law
Discriminating is a big no-no. But did you know that even suggestions in advertising could cause you trouble? Saying something as simple as "no kids allowed" could have you facing a Fair Housing lawsuit.
As the law differs by state and city, make sure you check out what local law says you can and can't do, and follow it to the letter.
5. Not having a real estate attorney and accountant
Having a good real estate attorney and accountant on call will keep you on track and in the black. You'll need help for uncomfortable evictions, touchy situations that may arise, and taxes for rental properties are different than for that of your own home. Find an attorney and an accountant you trust, and keep them on speed dial.
6. Not visiting the property to check condition
Tenants will complain about things that bother them, but what about problems that don't? Sometimes minor problems that are left unattended can blow up into much bigger issues and in turn, cost far more to address that it would have cost to take care of it when it was a minor issue. Make sure to drive by your property regularly and show up when work is being done. Schedule routine visits to review the state of the home's interior. Let the renter know it's in his best interest. If you need to, include the visits in your lease so they can't refuse and so all parties are clear as to the expectations before the tenant moves in.
7. Not hiring a good Property Manager
A good Property Manager with a lot of training, experience, and accredidation can be the best way to avoid these 7 rookie landlord mistakes. A Property Manager will inform you of costs, help you budget, and keep a good record of the expenses for you to help with tax season. They'll have a tenant screening process that will ensure only qualified parties are being placed in your rental, and have information on the benefits of renter's insurance ready for the new tenant. They will have relationships with real estate attorneys and thoroughly understand the Federal and local laws. The best Property Management companies, like All Seasons, LLC CRMC, will do regular interior and exterior assessments of your property to best ensure it stays in top shape, including keeping you apprised of preventative maintenance recommendations.
Call All Seasons today to talk about how they can help you with your investment property! (719) 632-3368