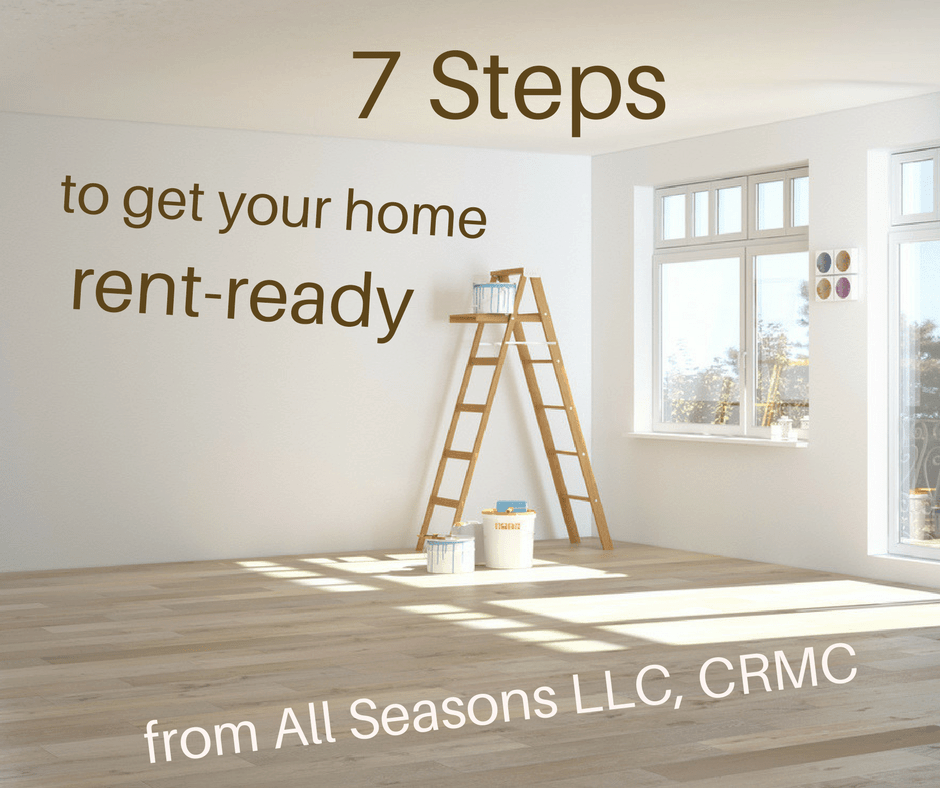 7 Steps to get your home Rent-Ready
Before you can rent your home, you need to make sure the inside ready for new residents. (We'll have another blog about getting the outside ready.) If you work with All Seasons, we'll have individual requirements for getting the home ready before rental, and they will be tailored to your specific needs. But to start out, here are 7 steps to get your home rent-ready.
Re-key the locks.

Not sure if copies of your keys are out there, or someone still knows your alarm code? Re-key all your outside doors to be sure. Change the garage door and alarm codes. And remember other locks too: mailboxes, side gates, and outdoor sheds. Put aside a complete set of new keys, marked as to what they open, and a record of the alarm codes.

Professionally clean the carpets.

You wouldn't want to move into a new place with someone else's dirt on the floor! So get a professional full-steam and shampoo carpet cleaning of your whole house. Repair or replace any carpet that shows signs of damage (or doesn't come clean after a professional carpet cleaning). Fix or replace any damaged tiles or linoleum.

Paint and repair walls.

Fix any holes in the walls before applying a fresh new coat of paint. White is best, making everything seem light.

Freshen the air. Check air filters, window screens, and blinds.

In addition to changing the air filters, cleaning the vents and surrounding ceiling area, it's not a bad idea to replace any reusable air filters with disposable ones. Torn screens can allow pests into your rental property, besides being a security and visual problem. So repairing or replacing screens may save you money, make less visits from your pest-control company, and give you peace of mind. Make sure all blinds are clean and fresh.

Get a professional top-to-bottom interior cleaning, including windows.

Renters expect their rental property to be clean for move-in, so have the property professionally cleaned. Professionals will get every area of your property clean–from scrubbing baseboards to cleaning out the refrigerator. Leave no room behind. Windows and sliding glass doors can easily build up dirt. A good cleaning will let in more light. Make sure the doors and windows all open correctly.

Change the lightbulbs, check ceiling fans.

Replace any broken light bulbs. Consider using energy-efficient bulbs that reduce energy costs and don't need to be replaced as often. Make sure that all fans operate properly and are dust-free.

Install smoke and carbon monoxide detectors, or change batteries.

Ensure smoke detectors are in good working condition. Equip the kitchen and each floor of the home with a fire extinguisher.
Does this list make you think you need a property manager? Consider hiring All Seasons to help you rent your property. A good management company can help with or take care of all of the tasks above. And they'll be there to handle anything that comes up after the tenants move in, too. Moving is stressful enough without worrying about starting a new business as a landlord at the same time. The value of professional property management is even greater if you're going to live far from your rental property. All Seasons is the only Certified Property Management Company in southern Colorado. Call us today! (719) 632-3368 Here are links to some other articles about getting your home ready to rent: Zillow.comREALTOR.com