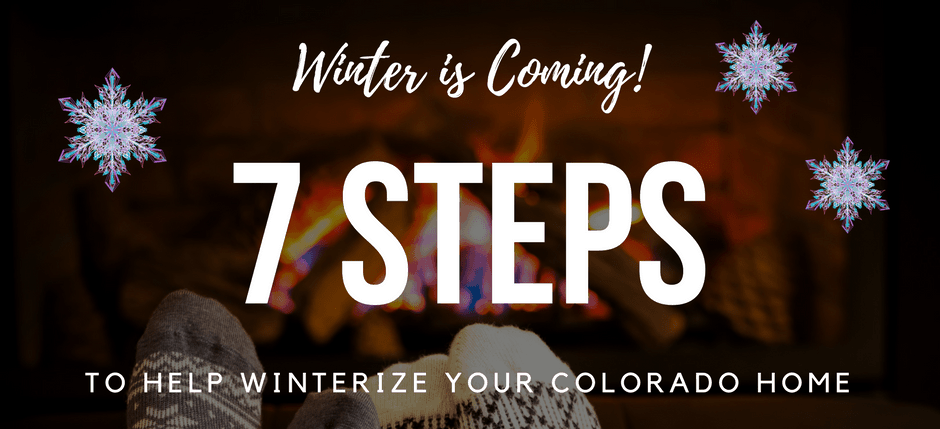 There's a nip in the air and a deep freeze is just around the corner. A little effort and a few dollars now can save you money this winter. Here are 7 steps to help winterize your Colorado home.
STEP 1: clean up landscaping
Rake leaves and trash the debris from your yard that could blow around during winter storms. If there are trees or shrubs that reach the roof or touch the exterior, hire some one to trim them. Otherwise, they could drip water or scrape up your home when the cold winds blow. If you're an All Seasons, LLC, CRMC Resident, we want to ensure you are not trimming the trees, so if you notice issues with them, please contact the maintenance coordinator.
STEP 2: clear out your gutters
Clogged gutters or downspouts can trap water and freeze, leading to roof damage. If you're an All Seasons, LLC, CRMC Resident, we do not authorize clearing the gutters Yourself, so please contact the maintenance coordinator to report the issue.
STEP 3: check on all your water lines and hoses
Make sure that water hoses are drained and disconnected. Wrap insulation over outside faucets. Blow water out of sprinkler lines that could break and cause leaks. If you're an All Seasons, LLC, CRMC Resident, You are lucky! You don't have to winterize the sprinkler systems yourself—All Seasons hires a landscaping company to do this for you. This landscaping company will contact all residents to get sprinkler systems winterized by the end of October. Residents in properties with sprinkler systems should let us know if they haven't heard from Colorado Stoneworks Landscaping to schedule a time to winterize the system by the third week of October. (Of course, this only applies to properties that have sprinkler systems.)
STEP 4: seal up those drafts
This is key to improving the comfort of your home and reducing your energy bill. Check around windows and doors, and add insulation as needed. Your local hardware store will have products that can be added and removed as needed. If you're an All Seasons, LLC, CRMC Resident, please check with your Property Manager before purchasing items to help with drafts – so long as it's temporary and can be removed upon your vacate, it's probably not an issue!
STEP 5: inspect the fireplace and chimney
Look for any nests or animals that may be hiding there. Remember to close the fire damper when not in use. Residents of All Seasons, LLC, CRMC need not worry about having a professional clean the chimney as we have them cleaned/serviced every 2 years, at a minimum.
STEP 6
Call a local HVAC company to take a look at your furnace. Make sure it's running safe and efficiently. Change the furnace filter for clean running—it'll save you money. If you're an All Seasons, LLC, CRMC Resident, Hooray! All Seasons residents (in all properties with gas-fired furnaces) will have an HVAC company contact them for the annual furnace inspections between now and the end of the year.
STEP 7
Recharge or replace fire extinguishers, and check the batteries in fire and smoke alarms. Add a plug-in carbon monoxide alarm if you don't have one. All All Seasons, LLC, CRMC Residents have CO detectors installed prior to their move in, so you don't have to worry! These are only a few steps you can take to winterize your home, but there are many more to look at. If you are interested, check out: (http://www.popularmechanics.com/home/interior-projects/how-to/g52/winterize-home-tips-energy-461008/). After you winterize your Colorado home, you can relax and enjoy the winter months our beautiful state is known for, secure that your home is ready for the cold. If you have any questions about winterizing your rental, call our office at: (719) 632-3368. We're happy to help you All Season long!