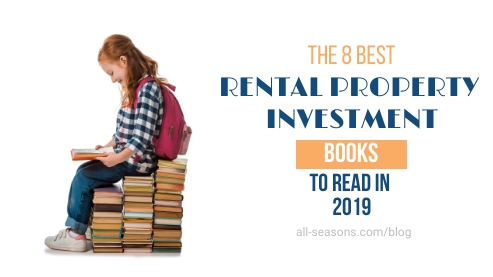 Real estate is really moving in Colorado Springs, so you might be thinking about investing in real estate. A great way to get started is to read book written by some of the most successful investors around. To help you on your way, here are the 8 best rental property investment books to read in 2019. Then, call All Seasons. We can help you buy and rent your investment property. That's our business! (719) 632-3368
The Millionaire Real Estate Investor

by Gary Keller



Anyone who seeks financial wealth must first learn the fundamental truths and models that drive it. The Millionaire Real Estate Investor represents the collected wisdom and experience of over 100 millionaire investors from all walks of life who pursued financial wealth and achieved the life-changing freedom it delivers. This book--in straightforward, no nonsense, easy-to-read style--reveals their proven strategies.

The Millionaire Real Estate Investor is your handbook to the tried and true financial wealth building vehicle that rewards patience and perseverance and is available to all--real estate.

Rich Dad Poor Dad: What the Rich Teach Their Kids About Money That the Poor and Middle Class Do Not!

by Robert T. Kiyosaki
Rich Dad Poor Dad is Robert's story of growing up with two dads — his real father and the father of his best friend, his rich dad — and the ways in which both men shaped his thoughts about money and investing. The book explodes the myth that you need to earn a high income to be rich and explains the difference between working for money and having your money work for you.



Explodes the myth that you need to earn a high income to become rich
Challenges the belief that your house is an asset
Shows parents why they can't rely on the school system to teach their kids about money
Defines once and for all an asset and a liability
Teaches you what to teach your kids about money for their future financial success

The Book on Rental Property Investing

by Brandon Turner
Brandon Turner is a real estate entrepreneur and vice president of growth at well-known real estate investing website BiggerPockets.com. He wrote the book on rental property investing, literally, and this handy guide explains everything you need to know about succeeding with rental investments as a means of generating cash flow. It also outlines the biggest mistakes rental property investors make and how to avoid them. If you're looking for a primer to rental property investing that's suited to beginners, this book can help position you to get ahead. It's packed with simple strategies and actionable tips for creating and maintaining wealth through income-generating rental property investments.

The Real Estate Game: The Intelligent Guide to Decisionmaking and Investment

by William J. Poorvu and Jeffrey L. Cruikshank


The Real Estate Game is a comprehensive guide to successful real estate investment from one of the masters in the field. Drawing upon four decades of experience developing, owning, and managing properties and on almost thirty years of teaching at the Harvard Business School, William J. Poorvu offers an insider's perspective on how to make smart decisions about real estate.

The Real Estate Investor's Handbook: The Complete Guide for the Individual Investor

by Steven D. Fisher


The Real Estate Investor's Handbook is a must-have for beginning investors, real estate veterans, commercial brokers, sellers, and buyers. Real estate investing has created more millionaires than any other investment vehicle in this country. This comprehensive step-by-step proven program shows beginners and seasoned veterans alike the ins and outs of real estate investing. This book is a road map to successful investing in real estate. You do not need to re-invent the wheel, and you won't have to make the same mistakes others have.

Real Estate: The Sustainable Investment: Strategies for the Next Generation

by Glen Sweeney and John Gordon


The Best Selling Book Real Estate: The Sustainable Investment offers advice and stories to make the learning curve a bit less steep and measurably safer, with proven strategies for reaching long-term investment goals by including income property in your asset allocation. Sustainable investing for sustainable living and a more secure financial future.

Buy It, Rent It, Profit!: Make Money as a Landlord in Any Real Estate Market

by Bryan M. Chavis
Chavis pens a comprehensive guide to buying and managing retail properties that provides a path to long-term wealth for would-be landlords, regardless of the current status of the market. Demystify the process of evaluating, acquiring, and managing rental property and becoming a landlord with Landlord Academy founder Bryan Chavis's clear, step-by-step plan to make your dream of owning a multi-family property a reality. With interest rates at historic lows, there's never been a better time to buy rental property and to hang on to it for long-term wealth building.

How to Make Money in Real Estate in the New Economy

by Matthew Martinez
If you're an investor sitting on the sidelines thinking you have no play in today's property market, think again. In his new book, Matt Martinez gives you everything you need to know to start profiting from the new paradigm in real estate.
If you want to invest in rental property, call All Seasons today! We have our eyes on the real estate market in Colorado Springs, and can help you get started with buying and renting your 1st property. Why wait until tomorrow? (719) 632-3368