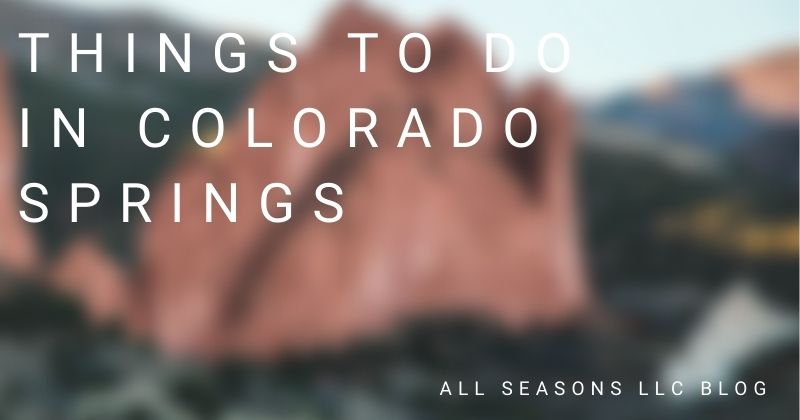 Colorado Springs and the surrounding areas are jam-packed with fun activities in the summer. Colorado is known for its amazing mountain scenery, wildlife, and nature. What are some things you can do this summer?

Pikes Peak is the largest mountain in our area. Take a ride on The Broadmoor Manitou and Pikes Peak Cog Railway and stop for stunning views of the city and snacks at the top. Or if you are the adventuring type, take a hike up this 14er and enjoy the trees, nature, and landmarks at a slower pace. The campground halfway up has cabins and cleared areas to camp which is a perfect summer activity if you enjoy roughing it.

Cheyenne Mountain Zoo is a great place to take the family. There are several animal exhibits including the newest penguin and hippo exhibit. There is also a music event for 21+ on August 25th. Enjoy live music from local musicians, food, dancing, and a bar. Purchase tickets at the Cheyenne Mountain Zoo here. The zoo also offers custom animal encounters to feed and interact with some of the animals as well as a gondola ride up the side of Cheyenne Mountain for fantastic views. See their website for more details. The zoo is a great place to get more educated about animals and our planet.

There are many museums in the area as well. The US Olympic and Paralympic museum in Colorado Springs has a lot of educational exhibits to learn about the history and stories of past Olympians. The exhibits include a hall of fame, collections of medals and paintings from past Olympians, and more. The Pioneer Museum is located in downtown Colorado Springs and is a great way to learn more about the history of the area and the Indigenous people groups. Or you can venture north of Colorado Springs to Denver and visit the Nature and Science Museum or one of the several art museums.

Colorado Springs and the surrounding areas are a hub for hiking. From easier hikes to 14ers, there is a wide variety of levels to get your heart going. Download an app to help you determine what trail would be best for you. All Trails is a good one that shows all of the trails in the area and gives you an idea of the difficulty level and length. Mt. Herman is a beautiful hike that goes above the city and is of moderate difficulty but with a lot of trees, a stream, and breathtaking views from the top. See this All Trails page for location information as well as to find other great hikes! The Incline is a notorious hike in Manitou Springs. Known by some as the Staircase to Heaven, this trail is not for the weak. Take the 2,744 steps up the east side of the Rocky Mountain range for an amazing view and the accomplishment of reaching the top.

Right below the Incline is Manitou Springs which is a great walking town. Visit the art galleries and try to win at Skee Ball in the historic Penny Arcade. Get a treat for yourself and your family at the Rocky Mountain Beignet shop. Or if you need to cool down, Graffiti Falls is a short paved walk just outside the town with a waterfall and cold water to splash in and is a great place to take kids. If swimming is not your speed, relax at one of the riverside restaurants or buy something from one of the many locally-owned shops that have specialties including soap, tea, and Native American-made jewelry. Manitou has many activities for the whole family and is a great way to spend the day and support local businesses.

Whether you are an avid hiker or enjoy a slower pace, Colorado Springs and the surrounding areas have tons of amazing activities. We hope this list of activities gives you some ideas of things to do this summer to relax, cool down, and have fun. All Seasons, LLC CRMC hopes for an enjoyable and relaxing summer for you and your family.