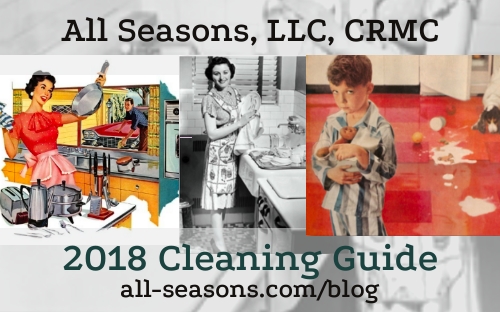 All Seasons Cleaning Guide 2018
Click here to read or download the All Seasons Cleaning Guide 2018

You're Moving!

So it's come time to vacate your rental home, and be on your way. With everything you have to think of, checklists can be a good way to make sure you have covered what you need to do.

Cleaning your rental property is an important part of moving. All Seasons, LLC, CRMC has put together this handy-dandy booklet for you, so that you can make sure you have the best chance of redeeming your security deposit. It's also a great guide for anyone wanting to shine up their property, even if they're not a renter.

We hope you enjoy this fun look at cleaning, and can make good use of this information. We wish you the best in your moving experience!
Most Frequently Missed Cleaning in Common Areas
All Seasons, LLC CRMC has a very high standard when it comes to the cleanliness of our properties. Keep in mind that this is why you moved into such a pristine property! Here we have complied a list of the things that we have found are most frequently missed when cleaning. This will help you do a quick property check before your final inspection.

Top of door trim
Front and back door thresholds
Top of baseboards
Interior glass of windows (Most people miss this because the windows look clean. Make sure to swipe your hand over the pane and ensure that no dirt comes off on your hand.)
Ledges on door panels
Switch plates
Top of thermostats, alarm panels, and doorbell covers
Flooring under appliances (washers, dryers, stoves, and refrigerators)
Dead bugs in light fixtures
Tops of ceiling fans
Interior glass of storm doors
Air returns
Vents on fireplaces
Most Frequently Missed Cleaning in Kitchen
Refrigerator gaskets, kick plate and top
Removing ice from the ice maker
Interior edges of the oven and drawer
Interior edges of the dishwasher
Under drip pans
New drip pans required
Interior of cabinets and drawers
Microwave-vents, tops, interior ceiling and underneath
Grease spots on above the stovetop
By the knobs and buttons on stove tops
Sides of refrigerators and stoves that are normally hidden by cabinets
Behind the sink faucet
Most Frequently Missed Cleaning in Bathrooms
Vanity bulbs
Behind the sink faucet
Towel bars
Towel rings
Toilet paper holders
Interior of cabinets and drawers
Exhaust fans
Soap scum and/or Ajax residue on shower walls and in tubs
Base of toilet
Floor behind toilet
Light fixture covers

NOTE: Remember to remove all personal items removed from the property--for example: hangers, toilet paper, cleaning supplies, magnets, and loose change.
To read the entire All Seasons Property Management Cleaning Guide, click here.