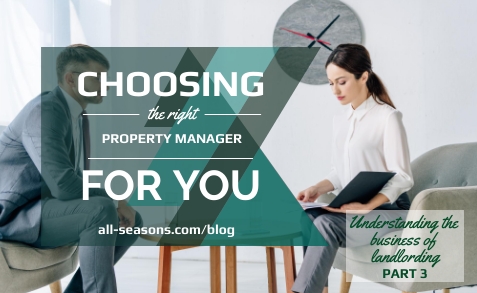 You're tired of being a landlord. You like owning investment property but you want to spend your time expanding your portfolio, not being a landlord. So you've decided to hire a Property Manager.
Great! - but where do you go from here? How do you find that one company that you can gel with, that will help you expand, and be your partner? How do you find someone who will respect your properties the way you do, and genuinely help with your career?
Here are a few things to consider when choosing the right Property Manager for you.
This is the 3rd blog in our series Understanding the Business of Landlording. To read the 1st two installments, click on these links:
(1) Preparing your rental for spring
(2) 7 Rookie Landlord Mistakes
Integrity and Reputation
You need to research a potential Property Manager as thoroughly as you research a tenant. Do a property management screening.
Start by checking online. Look for who is your area. Read their website and social networking pages. What kind of company are they?
Check out their online reviews. When looking at reviews, concentrate on the replies left by the company. People often use reviews to vent, but a Property Manager's answers will give you a good idea of how they deal with tenants and owners. Is it clear that they truly work for the owner and in their best interest?
See what professional relationships they have, like NARPM®, and what they do for the community. How many credited Property Managers do they have at their firm?
Then ask around. Talk to people about their experiences with the company. See how happy their clients are.
Personality
Now it is time for interviews. No matter how good a company is, if your personalities are not a good fit, your partnership won't be successful. Find someone you get along well with, and your journey will be a pleasant one.
History
You want to make sure the company you choose is a stable one. How long have they been in business? Are they planning to stay in your city? Check to see how many properties they manage and how many properties your specific assigned Property Manager is responsible for, as this will give you an indicator of what type of individual attention you may expect. Check out their track record as closely as you can.
Portfolio
When you look at their property list, make sure the company manages the type of properties you want to have in your investment portfolio. If you only have multi-family units but want to break into single family residential, make sure the company handles both. It's more financially efficient to have one company handling all of your investments, too.
Tools
Lastly, are you and Property Manager on the same page when it comes to technology? If you want to work exclusively online, then make sure the Property Manager has the tools to do it. If you live out of town, make sure your Property Manager is able to accommodate time zone differences, etc.
Make sure the Property Manager has tools to make tenant screening, maintenance issues, emergency calls, and all other parts of the business available to you in the format you're most comfortable with.
At All Seasons LLC, CRMC
| | |
| --- | --- |
| | We have cutting-edge online tools for everything we do, from tenant screening to marketing to maintenance. Our owner and resident portals let clients access their financial and maintenance records through the website. We've been managing single family homes in Colorado Springs since 1986, and have a website and social network presence online. |
We'd love to talk to you and show you the difference in using All Seasons, LLC CRMC as opposed to the competition. We'd like to explain how we were the first company in our area with the prestigious company-wide CRMC (Certified Residential Management Company) designation from NARPM®. We can also help you expand your portfolio with our in-house real estate agents, or sell your properties when you're ready (but you're not obligated to use our sales services if you have a good relationship with another Realtor).
Call us anytime at: (719) 632-3368. All Seasons, LLC CRMC is always here for you and your properties!
Read More
Here are links to a couple of other blogs that discuss finding a good property manager. Click on either of them below to read more.
(1) HGTV
(2) Realtor.com