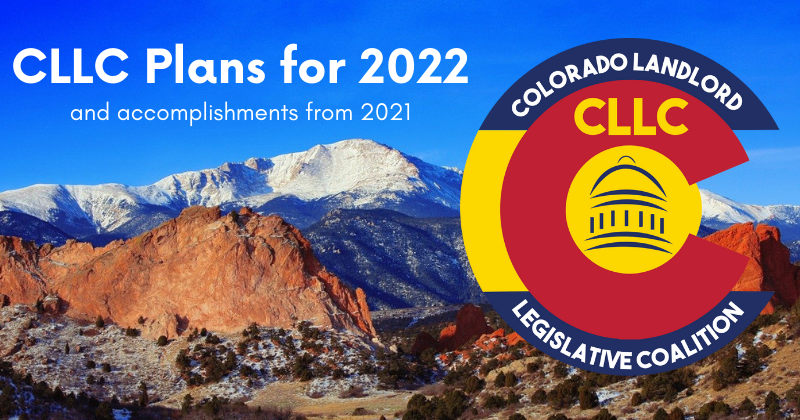 The Colorado Landlord Legislative Coalition was founded in 2020 with the mission to empower landlords and property managers and to promote involvement in the legislative process. The newly formed coalition of landlords, property managers, and attorneys enlisted a lobbyist to form relationships and attend legislative meetings on its behalf. This created the opportunity for housing providers to collaborate with lawmakers and offer their professional opinions during the drafting and negotiating of bills. The CLLC aspired to protect and advance the housing industry for the benefit of tenants and landlords. The CLLC became a stakeholder in housing issues and can now impact bills before they become laws.
The Colorado Landlord Legislative Coalition is entering its second year of activism and representation of housing providers. During the offseason, the CLLC has been participating in an Affordable Housing task force. There is $400 million that has been allocated for Affordable Housing solutions in Colorado. Legislators have been working to determine what type of bills they should bring forward as a means of utilizing this money to improve the affordable housing crisis. Ideas that have been presented are additional funding for rental assistance, legal eviction assistance, and local government funding to purchase properties to transition into more affordable housing such as the recent Hotel Elegante acquisition, which you can read more about here.
CLLC lobbyist, William Mutch, explained that this legislative session will likely focus on the upcoming elections due to redistricting and how to spend the funds that Colorado has in its budget for 2022; 40 billion dollars plus the 3.7 billion from the Colorado bipartisan infrastructure bill. The hope is that landlord-tenant laws will take a backseat to these other issues that are at the forefront at this time. The CLLC has already reviewed 110 bills roughly two weeks into the session. Of those bills, there is a Fair Housing bill, eviction suppression bill, and a few short-term rental bills on the CLLC's radar.
The CLLC represents all Colorado landlords and property managers in the single-family and small multi-family markets. Many of the industry stakeholders represent larger multi-family corporations and do not always have the same concerns that the smaller housing provider may have. The CLLC stands up for the single-family side of the industry. It is more important now than ever to have a voice going forward. The goal is to push keeping a fair balance between landlord and tenant issues and to provide a good representation of how new laws will affect both housing providers and tenants. This coalition aspires to bring about positive change for those providing housing and in turn, those who rent.
The CLLC is looking for Members interested in testifying at the Capitol should the need arise. It has been observed that testifying in person as opposed to remotely seems to have a stronger impact. If you are interested please contact the CLLC. https://coloradolandlordlegislativecoalition.org