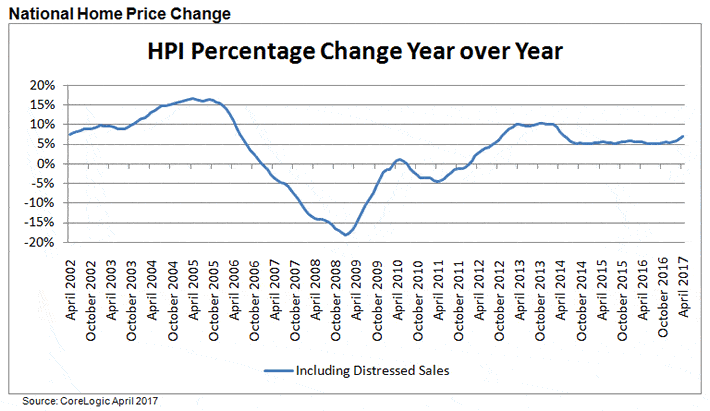 Colorado Springs Home Prices Higher than US Average: An article from CSBJ.com today shows Colorado home prices are up more than the national average.
Home prices in Colorado Springs increased an average of 7.7 percent in April when compared to the same time last year, according to a recent report by California-based real estate research firm CoreLogic. During that 12 months, home prices in the U.S. increased an average of 6.9 percent with the strongest gains seen in western states, according to the report. U.S. home prices increased 1.6 percent from March to April, while Colorado Springs home prices jumped just .9 percent. The state of Colorado experienced a 8.8-percent increase in home prices from April 2016 to April 2017, according to the report. "Mortgage rates in April dipped back to their lowest level since November of last year, spurring home-buying activity," said CoreLogic Chief Economist Frank Nothaft. "In some metro areas, there has been a bidding frenzy as multiple contracts are placed on a single home. This has led home-price growth to outpace rent gains. Nationally, home prices were up 6.9 percent over the last year, while rent growth for single-family rental homes recorded a 3 percent rise through April, according to the CoreLogic Single-Family Rental Index." CoreLogic's HPI Forecast also indicated that home prices would continue to rise through the next year, with estimated projections of 5.1-percent growth from April 2017 to April 2018. U.S. home prices are expected to increase another .7 percent from April to May.
An article on Corelogic.com also shows the national average of rental growth is up 3%, which makes sense when housing is tight. How will that affect you? Expect houses in Colorado Springs to sell for their full asking price, and rentals to be in low supply, leasing quickly. This is a good time to rent your home! If you're thinking about putting your Colorado Springs home up for rent, call All Seasons today! (719) 632-3368 We can guide you through the process, and give you confidence that your property will be well cared for. If you are looking for those hard-to-find rentals, call us today and let us know.(719) 632-3368 We're tied into the market and can find you just what you're looking for! Click here to read the entire CSBJ.com article, and click here to visit corelogic.com.