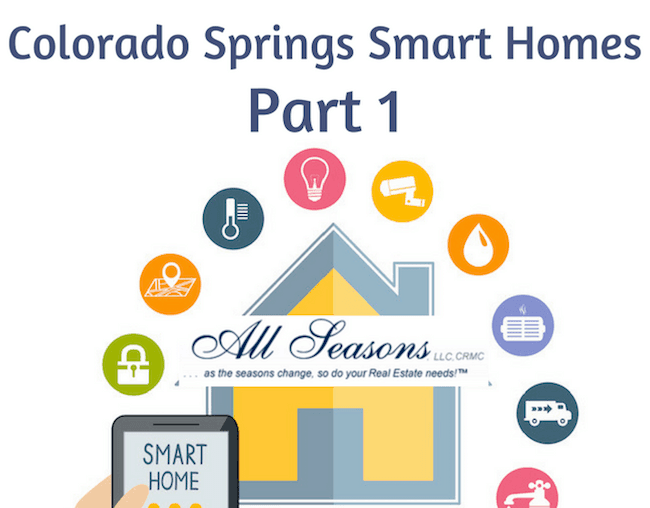 Colorado Springs Smart Homes
Colorado Springs Smart Homes are really catching on. If something in your home is plugged in, it can be WiFi controlled, or smart. This is called The Internet of Things, because you hook up the things in your home to the Internet so they can be controlled by you through a hub, control panel, or smartphone.
Security Cameras
Security cameras were some of the first smart tech to emerge. They can take the form of smart doorbells, baby monitors and cameras that contact your smart phone when they detect movement. They can even let you listen through your phone and talk to whoever is on the other side of the security camera. You can also capture video or take stills of whoever is at your door or creeping around in your yard.
Security Systems
Home security systems are now wireless and smart as well, with all the bells and whistles of the traditional security systems, with the advantages that you can install and monitor them yourself. You can choose which windows, doors, and other areas to cover, as well as including smoke and carbon monoxide detectors. With many systems, you can opt to have police and fire monitoring, or to control the whole shebang by yourself from your phone and control pad.
Door Locks
Smart door locks not only help keep out the bad guys, but they let you lock up your house from the office using your smartphone. You can open the front door for your child when he gets locked out, even if you're at the store. If you forget your key, type in a security code, or swipe a fob across the pad. Some locks even have fingerprint activation.
Thermostats
Smart thermostats were also early to hit the market. A smart thermostat can save money on power, and keep your home comfortable. It can even learn your habits and preferences, so after awhile you won't have to adjust it anymore. A good smart thermostat can use motion sensors to figure out if you're home or not, to help it decide what temps to set.
Light Bulbs
Smart Light Bulbs have become a craze. Replace your standard incandescent bulb with a variety of connected lighting solutions you can control with just a few taps on your smartphone or tablet. Turn them on and off when you're away, or put them on timers. Color-changing bulbs are great for mood lighting, and some can even sync up with music and TV shows. Hook up with a voice controller and change home lighting with your voice. Integrate them with security cameras, and thermostats to make them react to phone notifications or changes in weather. Play music through a smart speaker bulb if you dare!
There's So Much More!
There are many more items in The Internet of Things that help to create Colorado Springs Smart Homes, and we'll get to more of them in future blogs. For now if you'd like to read more, check out: The Best Smart Home Devices of 2017 by PCMag. You know what else is smart for your home? If you are going to rent your home, choose All Seasons to be your Colorado Springs Property Managers. We'll find the right tenants for your home and take care of everything that needs to be done. We're top of our field in Colorado Springs Springs because we will keep your home looking great, and your tenants happy. Call us today to learn more! (719) 632-3368