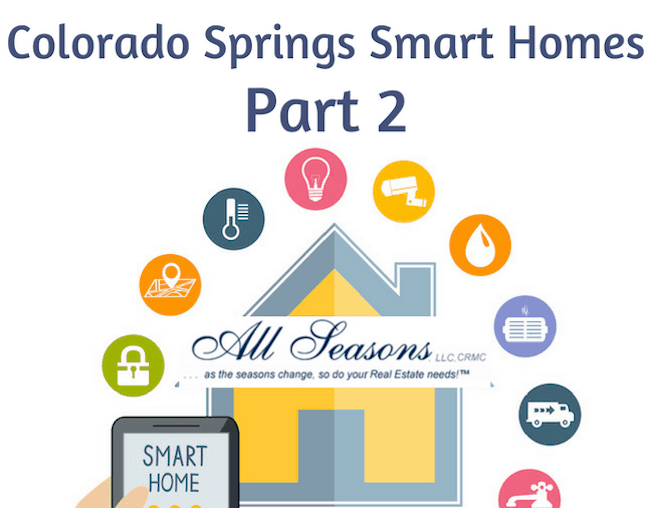 In our last Colorado Springs Smart Homes blog (click here to read it), we talked about some of the most basic items you can use to automate your home. We discussed security cameras security systems, door locks, thermostats, and lights bulbs. Now let's get into some of the other popular smart home options.
Hubs and Controllers
To control your SmartHome devices, a hub or controller makes it easy. One of the most popular voice hubs is the Echo, from Amazon. This is a voice-activated hub that uses Alexa smart assistant, and can respond not only to questions, but allows you to set up "recipes", or a series of actions that you can activate by voice. The new Echo Dot is a less expensive option. It connects to your speakers and supports most services like Pandora and Audible. You can control all or most of your other gadgets, like lightbulbs and the thermostat. There are many other options for hubs in your house, including Apple TV that now connects to home devices, Google Home and Google Home Mini that allow you to use Google Assistant, and the Apple HomePod that connects to Siri and has a powerful speaker. Each of them have their special goodies and drawbacks.
Cooking Devices
Yes—there are devices to do your cooking for you! The June Intelligent Oven weighs your food and knows how to cook it, and will do it when you're away. Want to start that grill while you're still at work? The Traeger Timberline 1300 is for you. With WiFi, you can access a database of your favorite recipes, and uses a patented smoke delivery system to to make sure the food is cooked right every time. Check out this link for more smart kitchen appliances: https://www.pcmag.com/roundup/352512/the-best-smart-kitchen-appliances
Cleaning Devices
There's an app for that! Robo Vacs have been around for awhile, but now you can operate them from the office, or schedule a good vacuum ahead of time. The Roomba 960 even has a camera for navigation and the ability to feed it maps. Want your floors mopped? The Braava Jet 240 can spray a jet of water and do damp sweeping. Learn more about smart cleaning here: https://www.pcmag.com/article2/0,2817,2498130,00.asp There is so much connected homes can do, but I guess I won't be happy until there is an app that can clean my toilet! If you have any questions about what Smart Home devices are allowed in All Seasons, LLC, CRMC rentals, call our office at: (719) 632-3368. We're happy to help you with your smart home.