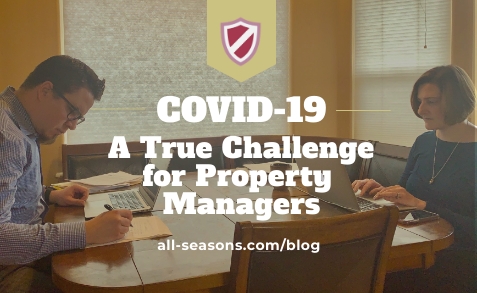 During this unprecedented time of the global pandemic, property managers are on the front lines. Whatever affects the population is felt immediately by property managers, because we deal with people's homes.
When layoffs occur, the market is down, or people don't have the money they need, we see the results. When laws change, we have to know immediately, and change with them. All of these things are happening now, and how COVID-19 is a true challenge for property managers.
Working from Home
The first thing we must do is be able to run our company successfully while following government mandates for social distancing. We can't shut down. Our owners and tenants depend on us to keep the money flowing and the properties maintained.
We have helped our employees set up home offices where they can still get their work done efficiently. This requires instant communication between employees. To do this, we forward our company phone numbers to employees homes, use video conferencing between employees, and of course, use an abundance of good old email.
Our employees are dedicated to their work and really love property management, so we have no trouble with making sure the work gets done. The most important thing is keeping the information flowing.
Staying up on COVID-19 Government Mandates
Things are changing by the minute. We have to stay in touch with rules of isolation, to make sure our employees, owners and tenants all stay safe and healthy, and follow government guidelines.
NARPM® helps us out with this, by keeping their website up to date, and we are careful to keep an eye on the government COVID-19 informational websites to keep track of rules for things like rent deferrals and government rebates. We want to make sure that our owners and tenants are able to take advantage of any government help that is out there.
To do this, we are posting online and emailing updates to our owners and residents. We're tracking updates from authorities like the Centers for Disease Control and their coronavirus index that provides more tools for prevention. Several of our staff are participating in national Zoom meetings to hear what our national colleagues are doing, to help us keep up with the changes.
We also monitor the local news to make sure we hear about any reported updates in our area.
Performing Property Management Remotely
Collecting Rent
To stay within isolation requirements, we make sure that everyone can pay online. This is an easy thing to do, as we already have a resident payment portal installed on our site. While we prefer tenants pay online, we still have someone checking our mail slot at the office daily for any checks or money orders that come in.
More difficult to deal with is the unemployment caused by COVID-19, and the hardship this represents to our residents and owners. We are doing our best to stay within government mandates for deferred or forgiven rent payments. Any payment plans or arrangements that are set up are recorded in writing.
Staying informed means that our company will be within the law when enforcing contracts. This includes keeping up knowledge of eviction law, and knowing what resources are available for tenants.
Communication with Owners and Residents
One of the most important tasks we see is good communication with our tenants and owners. Informed people are less anxious, and more able to deal with the challenges of social distancing and all the financial and social issues that go with it.
Keeping up Maintenance
When it comes to maintenance issues, social distancing must be respected. This means respecting the wishes of both the tenant needing the maintenance, and the vendors doing the maintenance. Everyone must be protected.
Prioritization is key. Emergency fixes must still be handled immediately.
Inspections
As many tenants do not want anyone entering their home, we have set up ways for tenants to do their own move-in and move-out inspections. Of course, these reports will be reviewed thoroughly when we receive them, and if we're not sure about anything, we will ask for more pictures and descriptions.
Our properties are always very well maintained and cleaned, but we're making extra efforts to follow CDC recommendations for cleaning, and mandating a vacancy period between tenants if needed.
Marketing
Instead of having on-site walkthrough showings, we are setting up visual tours online for prospective tenants to see properties. We are also continuing our efforts to provide high resolution photos for every property.
We make use of the Sight Unseen addendum in our lease, something we've used in the past for out-of-town renters. This gives new tenants options when renting properties they have not actually seen in person.
We're Here to Answer All of your Questions
As always, our team of devoted property managers and staff are here to answer all of your questions. We know how confusing the current situation is. There is understandable anxiety in that we don't know when restrictions will be eased, and people can go back to work.
We are all in this together. Let's stay in communication, and help each other all we can. Together, we're sure that we can make it through this difficult and uncertain time with the least amount of issues.
Call us if you need anything, and keep us in touch with your needs. If you are having trouble, don't wait to tell us. Let us know immediately if you anticipate having trouble paying your rent, so arrangements can be made to help you.
Use our regular phone number to reach us: (719) 632-3368. Take care of your family, and remember that we are here for you!