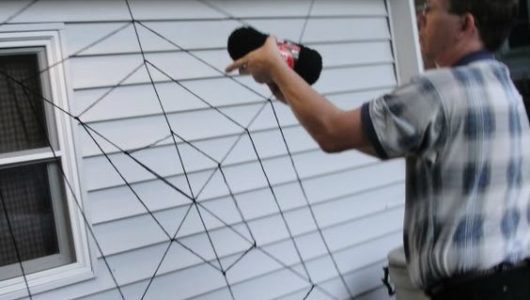 Deck the Halls with boughs of spiders!
Boo-boo-boo-boo, boo-boo-boo-boo!
Kids of all ages love holidays, and what is better than spending time together as a family to decorate the house?
What? You don't spice up your home for Halloween? This year, give it a go. And if you're not into the spooky, choose a fall theme instead, and the decorations will work all through the Thanksgiving season.
If you put your skulls together, you can dig up everything you need around the house. To the kitchen for eye of newt, the backyard for toe of frog. And where can you dig up that hard-to-find wool of bat? The sewing room, of course. But seriously. With some imagination and the Internet, your house can become your family's castle. To help you along, we've shared some of our favorite ideas here for you. Click on the pictures below for more. And when you're done, share your picture with us on our Facebook page. We'd love to see them!
| | |
| --- | --- |
| Creepy Bat Swarm Cut folded construction paper into bats, and suspend them from the ceiling in a swarm. Sure to surprise even the bravest of trick-o-treaters! | The Spooky Bat Lamp Have bats left over from the bat swarm? Secure to the lampshade on the inside. They'll cast spooky bat shadows. (Make sure you keep the paper away from the bulb.) |
| Eerie Cat Window With that same construction paper, cut out silhouettes of cats and witches and jack-o-lanterns. If you want to, put lights around the window. It'll send chills down your spine! | Trash Bag Spider Web All you need is a scissors and a trash bag to cut these webs into shape. Hang them across doorways and suspend them from the ceiling to creep out any room! |
| Giant Spider Web Use yarn or macrame cord of any color to create your giant web. Connect from top to bottom, make and X in the middle, and weave from there. (Click on the picture for more. Plop a homemade spider in the middle for extra scary effect! | Easy Creepy Spider This spider's body will change size and color depending on what balloons you use. Make it huge, make it small. Then attach streamers for the legs, and hide it in corners. Someone is sure to be surprised! |