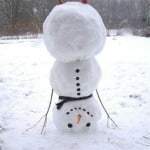 Fun With Snow Painting
It's snowing in Colorado Springs! So get out there and have some fun. Everyone loves to build snowmen, make castles and snow angels, and construct forts, dioramas and maybe even igloos. Making mazes in the snow with your snow shovel can be really fun, especially if it helps you to get to your car or mailbox. But have you ever thought about putting some color in your snow? There are a couple of ways you can do this. Snow Painting is a colorful and inexpensive activity for all ages, toddlers included.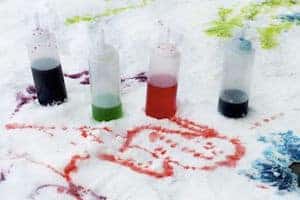 You Will Need:
liquid food coloring, any brand
tap water
recycled plastic spray bottles, any size (ideally with adjustable squirt / spray nozzle)
What You Do:
Fill spray bottle room temperature tap water.
Add 15 to 20 drops of food coloring, depending on the size of your bottle (more for some colors like yellow and red).
Mix colors with the kids. Make orange with 10 drops yellow, 5 of red.
Screw on tops, shake to mix.
TIP: spray a bit on a paper towel to check for intensity - if too faint, add more coloring. You can use this color to give your snowman color, or to make shapes and designs in the snow.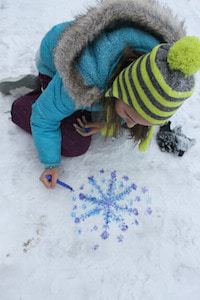 Another thing you might want to try is using your markers. This girl is making an intricate design of a snowflake. Make sure and tale a picture of your work, because it will eventually melt. Whether you're a child, or an adult who has never given up having fun, snow painting can add color to all of your snow activities. So go out there and create!