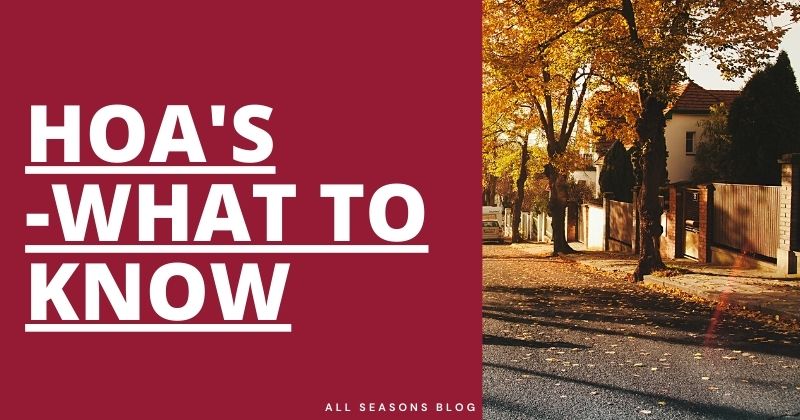 When purchasing an investment property, whether or not to buy in an area governed by a Home Owner's Association can be a big decision. What are some things to be aware of with HOA's? What are some common benefits and downfalls with HOA's? We'll visit these questions and more in this month's blog.
While some HOA's only require annual dues, the majority have monthly dues that must be paid. These dues typically cover the costs to operate the HOA, including HOA Management, enforcement, etc. Sometimes the dues include utility expense, snow removal, or grounds maintenance. Some HOA's include amenities such as a fitness center, a pool, guest parking, and trash services. The fees can vary drastically between neighborhoods, so it is important that you are aware of the cost and when they are due to avoid late payments or the property entering into receivership because of delinquent dues. In our market, it's not common for tenants to cover the cost of the HOA dues, so the expense will affect your net income. Most Property Management companies, including All Seasons, LLC CRMC, do not pay HOA dues on behalf of the homeowner.
Be sure to read the bylaws outlined by the HOA before purchasing a property in a planned development area. When you purchase a home with an HOA, you are making a legal agreement to abide by their bylaws. The Rules & Regulations will likely be strictly enforced and if not complied with, may result in hefty fines. Some HOA's are more strict than others so it is important to ensure that you are staying up to date with changes and anything that pertains to the HOA agreement for the neighborhood. Some things to look for that HOA's might control are the exterior condition of the home, maintenance of the yard, grass length, paint colors, street parking, RV and camper storage in the driveway, holiday decorations, noise restrictions, pet restrictions, and more. Some HOA's will restrict the property's usage in terms of renters. We have had some clients purchase in an HOA and sometime thereafter, the HOA restricted rentals. Fortunately, they will typically grandfather the existing rentals in that case but not always. HOA's can have bylaws restricting the length of tenancies and some HOA's will even require their own credit checks for potential renters. If you plan to rent out your investment property, it is important to be aware of what the HOA will and won't allow. Every HOA has different requirements and rules, so be sure to review everything extensively. These restrictions can be beneficial, but may also be a time consuming hassle.
Some of the pros to an HOA is that their restrictions have the ability to retain the value of the neighborhood. If the HOA enforces yard maintenance, or yard upkeep is included in the dues, you can rest easy that the exterior will be maintained. Here at All Seasons, LLC CRMC, we perform routine assessments to ensure proper exterior maintenance is taking place however, an HOA can add additional security to ensure that the lawn is being properly maintained if that is something that violates the Rules & Regulations. They can also provide amenities to your tenants and in turn, attract more renters.
While the amenities and inclusions may appeal to some renters, others shy away from HOA's because of strict covenants. It's not uncommon for HOA's to issue violations for mostly harmless violations. This can include tenants leaving a trash tote out for pick up a day earlier or later than the pick up date. Constant harassment by an overzealous HOA can cause you to lose tenants. It also adds tasks to your plate with respect to passing any violations or other important HOA communications on to the tenant or charging their account for fines.
Do your research on the HOA's reputation and ensure you thoroughly understand the bylaws. Will they be flexible and willing to work with you if issues occur? Are they regularly available to ask questions? Are they overly strict, expensive, or do they charge unnecessary fees? These are all things to keep in mind when considering a property within an HOA.
In conclusion, HOA's can be both a blessing and a curse. They can keep your property and neighborhood value higher and may provide amenities and services, but they can sometimes be difficult to work with and cost you money or tenants. Always be certain that the benefits outweigh the potential detriments. If you are interested in allowing All Seasons, LLC CRMC to manage your rental and would like our input on a particular HOA's Rules and Regulations affecting rentability, give our offices a call today at 719.632.3368 or email us atcontact@all-seasons.com