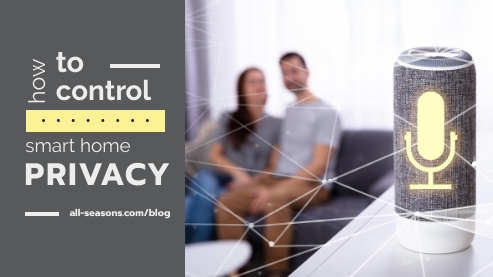 A new episode in our smart home blog series.
We've been writing about how to set up a Smart Home on our blog for over a year. In this blog post, we'd like to address the issue of how to control smart home privacy when it comes to your active listening devices, like Alexa, Google Assistant, and Siri.
Most people have these around somewhere, even if they don't use them. They're on your smartphones, TV products, and virtual assistants.
Do you think your always-on device could be listening to everything you say? In a survey by PCMag, surveying over 2,000 U.S. consumers, 68% believe they are listened to by the companies that made the devices. They believe it's almost like bugging your own home. According to a recent Amazon report, thousands of people are employed to listen to what you say within an assistant's recording proximity and then transcribe, annotate, and relay important information back to the software to improve the services offered by the assistant.
If this worries you at all, it is possible to control what is heard by your voice devices. You can also go back through your interactions and take charge of your records. We're gonna show you how to do this for your Amazon assistant, and then give you links to learn about how to control smart home privacy on the other models.
Note: We do not recommend one assistant over another.
Stop Your Assistant from Listening
| | |
| --- | --- |
| | Mute the microphone(s) on your assistant by tapping the button on top or the side when you don't want it listening. Simple! |
Stop Other People from Listening
| | |
| --- | --- |
| | Open the Alexa app on your mobile device and tap the menu button on the top-left of the screen. Select Settings > Alexa Privacy > Manage How Your Data Improves Alexa. Switch off the toggle next to Help Improve Amazon Services and Develop New Features. Then also switch off the toggle next to your name under Use Messages to Improve Transcriptions. This will keep your recordings from being reviewed by actually people. |
Review or Delete Recordings
On the Amazon Alexa App
| | |
| --- | --- |
| | Do you want to see what you've been recorded saying? On the app, go to: Settings > Alexa Privacy > Review Voice History. The app makes it easy to see what has been recorded, and delete it all or just by day. |
On the Web
On your computer, go to Amazon.com, and under Accounts & Lists > Your Content & Devices > Devices tab. Click the menu next to a particular device, and select View Voice Content. You can then go ahead and choose Delete Voice Recordings.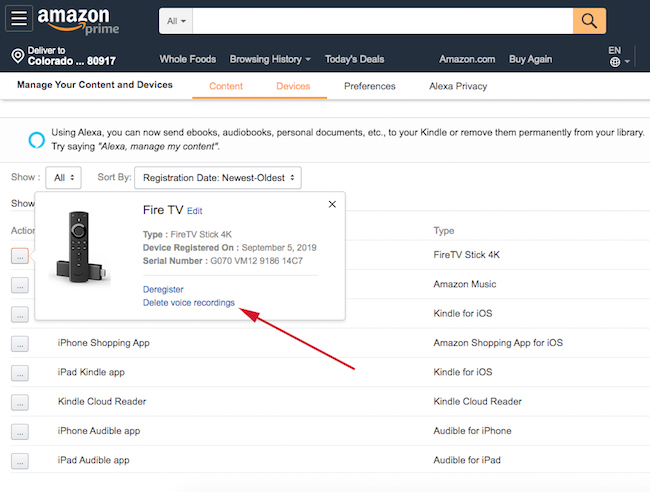 Summary
As with any technological advance, a smart home can have privacy concerns. But the overall experience can be well worth it if you stay up on new advances like how to control smart home privacy.
Links
Killing Active Listening on Assistants (PCMag)
How to Set up a Smart Speaker for Privacy (Consumer Reports)
...and don't forget!
All Seasons LLC, CRMC cares about the homes we manage. We want to keep the homes looking good and the tenants happy. If you have investment property, or are looking for a home to rent rent, call us today! Just say: Hey, Alexa, call the best property management company in Colorado Springs! Or better just tap in: (719) 632-3368.