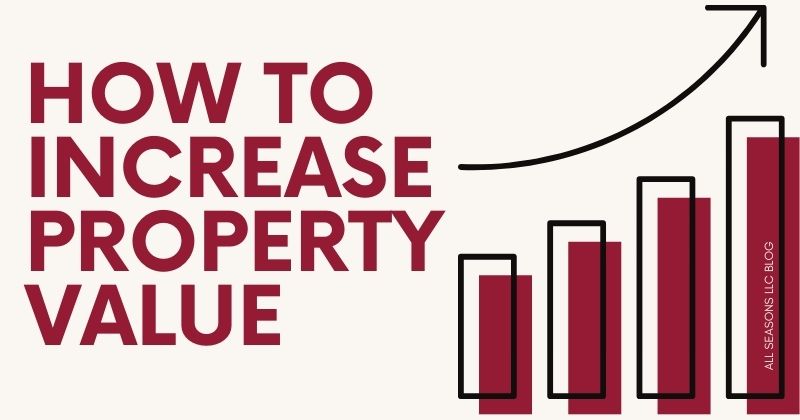 When you have a rental investment property you want to be able to increase the value over time. A few steps you can take are performing regular preventative maintenance such as furnace and sewer maintenance, gutter and chimney cleaning, etc. You should also take care of basic maintenance as it occurs, to minimize more costly damage. Budgeting for regular improvement projects will keep your home from getting outdated so that it will be ready to sell when the time comes. Some upgrades also help decrease the chance of maintenance issues and can cut down on costs. We will address some ideas that you can put into action within this post.

An easy way to upgrade is to repaint the interior of the home. This can increase the appeal of a property for a prospective tenant and is a slightly less expensive option for an upgrade. We recommend choosing neutral colors to appeal to a multitude of people.

Changing out old carpets and replacing them with hardwood or luxury vinyl plank flooring can be a more expensive swap, but is ultimately a good investment. Hardwood and vinyl floors are easier to clean and don't stain or trap odors as easily as carpets. Hardwood and vinyl floors don't wear as quickly and thus typically last longer and require less maintenance.

Adding low-flow toilets and water fixtures can help minimize utility costs. According to the United States Environmental Protection Agency, "By replacing old, inefficient toilets with WaterSense labeled models, the average family can reduce water used for toilets by 20 to 60 percent— nearly 13,000 gallons of water savings for your home every year." Lower utility costs may help retain tenants.

In Colorado adding air conditioning is a great way to add value to a home both for increasing tenant appeal or for a future sale. The increasing temperatures have led to more demand for properties that include AC. Now is the time to add an air conditioning unit if you have been considering it. HVAC standards are changing in 2023 and the changes will increase the cost of upgrading your HVAC systems. This article by Angi has a wealth of information on the changes coming next year. HVAC Regulations.

Remodeling kitchens and bathrooms can be large expenses but will add the most value to your property. If your cabinets are outdated, painting or replacing them can improve the look of your kitchen. New countertops that are high quality will incur less scratching and damage. New fixtures, a backsplash, or new appliances can also increase value and keep a modern appeal.

Exterior upgrades can help increase curb appeal. A new coat of paint or landscaping can increase attraction to the home. Adding a sprinkler system can help keep the lawn healthy during tenancies. Changing your landscaping to xeriscape is also desirable for saving on water costs. Upgrading your gutters can help prevent future damage. Gutters that are in disrepair can lead to costly interior flooding.

We hope this gives you some ideas on general care and upgrades you can add to increase the value of your property, create a better place for your tenants to live, and cut down on costs. If you would like All Seasons, LLC CRMC to help you manage your property or if you would like information on the services we provide, give us a call today at 719.632.3368.