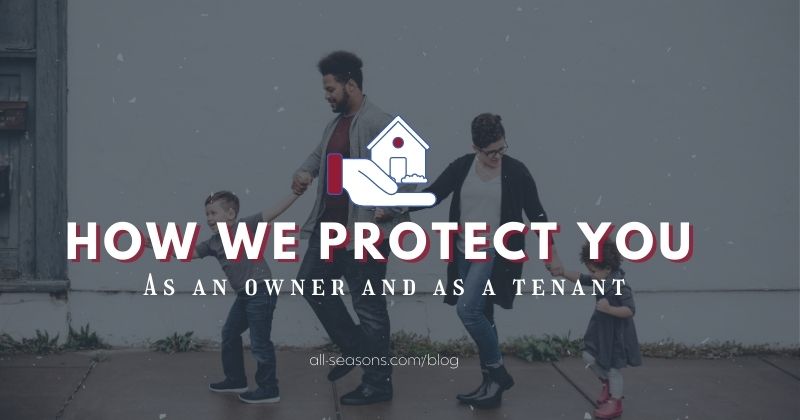 Here at All Seasons LLC, CRMC, it is our business to protect both owners, tenants and investment properties. Whether you have an investment property or are living in one, it is our highest priority to protect you and the home. Here are some ways that we ensure consistent quality and continual care for you and the home.

Our team performs regular assessments of our managed properties throughout the year, both for the interior and exterior of the home. This continual check of the home provides peace of mind for owners and allows us to catch potential problematic maintenance issues that tenants may miss. For owners, we want you to know that your investment property is being cared for and looked after, with a preventative focus. These visits also give tenants a chance to state concerns and bring any maintenance needs to our attention.

We perform detailed Move In and Move Out Videos, which provide all parties with security and confidence in knowing that an extensive documentation of the property exists. This is to prove the condition of the home before and after tenancy. Owners can rest easy knowing that their investment is being protected and tenants can be sure to know they will not be charged unfairly for issues that were pre-existing when they took possession of the property.

We ensure thorough move in and out cleaning and maintenance is performed in each vacancy as well. If needed, we hire vendors to clean, fix and touch up anything that falls into disrepair during tenancy. This keeps the home in good repair and best ensures that our new tenant will not have frustrations with property condition upon move in. Afterall, moving is stressful enough as it is! Owners can also rest easy knowing that when they eventually go to sell or move back into their investment property, it will be in the best condition possible.

Preventative maintenance keeps the home in working condition. We require that annual furnace servicing be performed on all of our managed homes, providing comfort to everyone involved with respect to safety and performance of the heating system. We also offer annual and bi-annual services for your furnace, gutters, and sewer maintenance as opted in by the homeowner. This reduces the risk of expenses for owners and inconveniences for tenants. We also offer landscaping services that owners can choose from to assist the tenant in their obligation to maintain the yard at the property. This can include aeration, fertilization, and weed control. Keeping curb appeal up benefits the homeowner and the tenant!

We stay up on local, state, and national laws surrounding Property Management to ensure that we are abiding by all regulations. Since we serve as the agent of the owner, we are consistently protesting bad legislation that could adversely affect the owner and in turn, also the tenant.

Lastly, we are very knowledgeable about our business. Our company was founded in 1986, so we have weathered both good and bad markets, always coming out stronger on the other side. Our team brings roughly 50 years of experience working in Property Management and we are always growing and becoming better and improving what we do. We were the first CRMC (Certified Residential Management Company) in Southern Colorado – earning the designation 10 years before any of our competition. Our experience combined with our methods of detailed documentation of your property gives us a trusted reputation. You can rest easy knowing that everything is being handled above board and with the utmost professionalism.