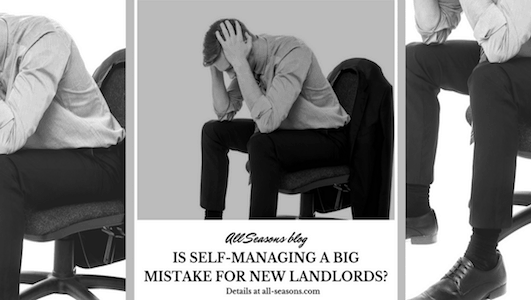 Making a Mistake That Won't Go Away
Is self-managing a big mistake for new landlords? When you're first learning about the landlord lifestyle and business, you're bound to make mistakes. You're human. But in this online world, your mistake may never go away. Online reviews and social posts are there forever, and you want them to be 5-star from the start. There is a steep learning curve in becoming a landlord. While you're learning, let a professional company with experience and a good reputation manage your property. That way, you'll establish a good reputation, too. After you feel like you know the property management business inside and out, then take it on yourself. But if you choose a good property management company (PMC), I have a feeling that you'll probably decide to leave your properties with them. Especially if you want the great investment benefits of a rental property without the headaches!
Time Well Spent
If you're wedged underneath a tenant's sink with a wrench in your hand (and your neck), how are you going to find time to research and purchase new properties to add to your portfolio? Think about it—who are you? Are you a handyman or a real estate investor? What is your time worth to you, and how do you want to spend it? If you are serious about real estate investing, then be a real estate investor, not a landlord. Or a handyman.
Managing Contractors
So you decide you're not going to fix the sink yourself. Good for you! You're going to hire someone else to do it. But hiring a contractor can be just as time consuming and frustrating as doing the work yourself. Do you know what companies will do the work to your standards? Do you know the right man to fix that sink? Are you certain that the contractor you're using is insured, licensed (if required), and understands the risks of working inside a tenant occupied property? After all, their actions could leave you with liability. A good PMC will have a list of vendors they know well and have been well vetted to be certain that they are qualified to do the work and have proper insurance. For the PMC, fixing a maintenance problem takes one simple call. The vendor they hire will do the job right, because they have an on-going relationship with the PMC, and don't want to mess that up and lose the wealth of business the PMC provides. For you—the investor, the process becomes transparent. It'll happen behind the scenes while you're out doing your real job—real estate investing. You can look at the maintenance progress and the cost online through your Owner Portal, letting the PMC keep track of everything for you. You can check the maintenance history of your property anytime you want to, online and on your time since the portal is available 24/7/365. If you must pay for a contractor anyway, why not have someone with the experience and local contacts hire the vendor and make sure the job is done right and at the least amount of risk to you?
Communication with Tenants
Acting as landlord, even if you spend good time and money selecting the very best tenants, there will be countless communication issues with tenants. This includes more than their calls about maintenance issues, your routine property checkups, or seasonal jobs like turning on the sprinkler system or having the heating system looked over. Tenants have life changes. They want to add a girlfriend to the lease. This means another background check and lease signing on a property you thought was rented and off your list for the next year. They are deployed overseas and need to leave by the end of the month. This means cancelling their lease, turning the house over again. You have to do cleaning, find new tenants, sign a new lease. Also, are you in compliance with the Servicemembers Civil Relief Act? You get the picture! Even when you think your property is squared away for the next year or so, surprises happen and knowing applicable laws and regulations is key to your success as a real estate investor. Again, a good PMC will have a tested process for adding a girlfriend or a dog. If your tenant is redeployed or dies, or leaves for any other reason, the PMC can quickly spruce up the property and place a new tenant quickly.
Giving too Much Because You're Personally Involved
This is something you may not think about at first. But if you're dealing with your tenants regularly, you may lose your business perspective with them. Real estate investing requires business done right, and if your tenants become family, you may let things go because you care about your tenant. If you know your tenants well, it may become impossible for you to require them to mow the lawn. Will you let a tenant-become-friend pay the rent late, or even skip a month? And if things go really wrong, could you evict them? Keeping distance from your tenants is good business sense. Let your PMC make sure your real estate investment, so hard fought for, is run like a business. PMC's cannot make exceptions and risk violating Fair Housing law, so this keeps things consistent.
The Expected and Unexpected Personal Stuff
Congratulations! It's your 5th wedding anniversary. Your wife wants to go on a cruise, and because of your smart investing, you have the money. But what happens when you're gone? You can't be under the sink from the promenade deck. So even if you have the money to travel, you may not be able to. What if you get sick? Let's say you hurt your back lifting the carpet cleaner you just used to clean your new property, and your doctor prescribes a week in the prone position. Who will finish getting that new property ready to rent? If you are self-managing your property, time you take off not only means your tenants don't get their kitchen faucet fixed, it means your new property languishes without a tenant. And you lose needed income.
So, is Self-Managing a Big Mistake for New Landlords?
When you start out, self-management sounds thrifty. You think that every penny saved is a penny earned. But if you take a good look at the facts, you'll see this is not true. Look at the pros. Do people with 5, 10, or 100 properties self-manage? If you ask them the right thing to do, what do you think they'll say? It comes down to this. What is your job? What is your time worth? What do you want to spend your time doing? If you like fixing sinks, then you should open a handyman business. If your goal is to be a successful real estate investor, then invest in a good PMC. Your property will be maintained and rented, your tenants will be served, and your time can be spent growing your real estate investments. Most PMC's monthly cost is comparable or less than the average person's cable bill so isn't your investment worth at least that?