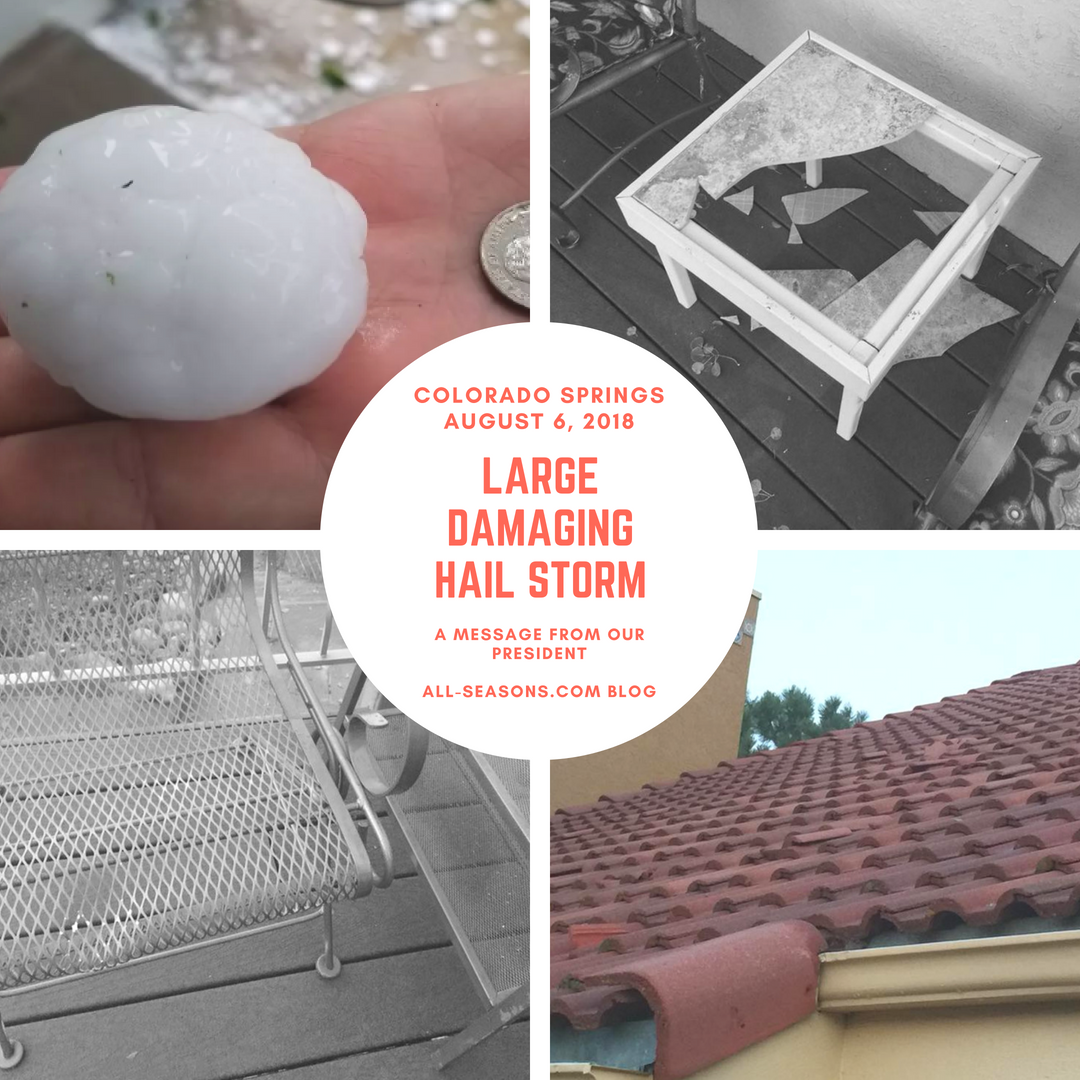 A Message from Our President
Once again, Southwestern parts of Colorado Springs and areas in Security / Fountain / Widefield experienced another major hail storm yesterday. Hail size ranged from quarter to baseball. Unfortunately, this storm hit some of the same areas that were damaged during the storm in mid-June.
The storm came in late afternoon yesterday and because of the timing, there were injuries but fortunately, we have not received reports of any Residents being hurt. It's our understanding that majority of the injuries were to parties visiting the Cheyenne Mountain Zoo. Short of two animals at the zoo, there were no fatalities.
Several tenants have reported damage ranging from roof leaks, broken windows, damaged gutters/siding/roofing, etc... and we have dispatched a vendor out to get tarps on roofs and broken windows boarded up as a temporary fix. As you may imagine, hardware stores are experiencing shortages of tarps and plywood once again but so far, our vendor has been successful at protecting these properties.
Rest assured our main priority is getting the properties secured and to prevent further damage/water intrusion. If your property had a report of damage such as broken skylights/windows or damaged siding/roof - we believe it's likely an insurance claim is warranted. In that case, your Property Manager will reach out to you by tomorrow with those details and the next steps.
With a storm of this size, insurance claims are inevitable for some of you. We are sending a list of our properties in the affected areas to one of our preferred roofing companies and they will doing free assessments on all of these homes in the coming days to let us know the extent of the damage and if an insurance claim is warranted. Since some of you have recently replaced roofs/had other insurance claim work completed after the June storm, we're also having those properties checked again for new damage.
Danielle and I visited all vacant properties in the affected areas last night and only two of those had incurred damage that we could see from our visit (broken windows/skylights.) Both were properties previously affected by the June storm so we are relaying that information to the vendor doing the hail claim work so he may request a supplement to the existing claim.
Know that we are working diligently to get properties that are in need of attention addressed. If you have questions in the meantime, let us know. Otherwise, if you have a managed property in the affected area, we will be in touch with another update in the very near future.
Please understand that due to call/email volume, we may have to prioritize calls and our response time may be delayed for non-emergency issues as a result. Thanks for your understanding! Hopefully our area will catch a break from damaging weather for awhile.
Matt Rogers, RMP
President/Designated Broker
All Seasons, LLC, CRMC
(719) 387-4144