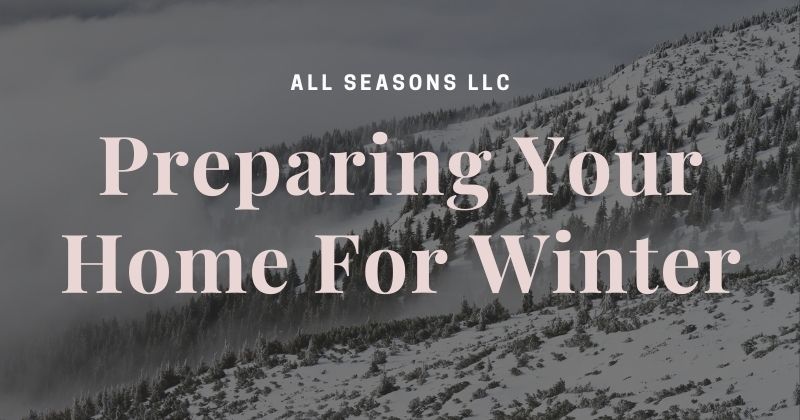 It's getting closer to that time of year again! Winters in Colorado can be long and snowy, so ensuring your home is ready for Winter is so important to keep things running smoothly. From maintenance of the home interior to the lawn and your yard equipment, it can be a daunting task. Here is a resource list of things to think about as we move into the cold season.
Check your roof for missing shingles or any issues that could cause leaks. Also, if you see leaves or pine needles gathered on the roof, rake or blow them off to keep moisture from gathering. Be sure your gutters are clear as well and there are no damage areas that would cause leaks. Of course, these tasks can be dangerous so only attempt them if you're comfortable doing so. Otherwise, hire a professional.
Disconnect any garden hoses from outside faucets to ensure that there isn't risk of burst pipes.
Seal and patch cracked concrete before a freeze sets in. Frozen water causes any existing cracks and damage to worsen with the cold weather.
Winterize your sprinkler system. All Seasons, LLC CRMC works with local landscapers to properly winterize sprinkler systems at the properties we manage so our clients and customer may rest easy knowing we are taking steps to do what we can to avoid sprinkler freeze damage. It's not uncommon to get an early season freeze in our area though, so it's best to at least know how to drain the sprinkler manifold, should you need to do that ahead of the system being blown out with a compressor.
Fertilize and reseed your lawn to survive the cold months. This step can help ensure that the lawn comes back healthy. Aeration is also not a bad idea, if the ground isn't too frozen yet.
Cover patio furniture to keep it dry and clean. Uncover your winter tools such as shovels and snow blowers as well so that they are accessible for when snow hits.
Keep your furnace in good shape. Have it inspected yearly and always ensure that you are replacing the air filter in your furnace regularly. We recommend replacing the filter monthly. If the filter is dirty or clogged, there is a good chance the furnace will not function properly and could create a "no heat" issue when you least expect it.
At All Seasons, LLC CRMC we put in the work to ensure every property we manage receives (if applicable) regular furnace/boiler service and sprinkler winterization. We also offer optional coordination of routine gutter cleaning and yard services such as lawn fertilization and aeration. We are completing exterior assessments throughout the month of October help us recognize any concerns such as siding damage or damaged concrete, before the cold weather sets in, causing potential damage.
If you're an investment property owner in the Colorado Springs area and are considering hiring a professional Property Manager to protect your asset and provide peace of mind, contact us today at (719) 632-3368. We would love to share details on our style of Property Management!