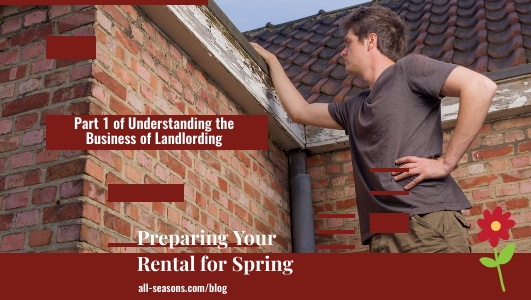 Understanding the Business of Landlording, a New Blog Series from All Seasons
Episode 1 - Preparing your rental for Spring
It's been a cold, wet winter in Colorado. This is good! Snow pack is 143% of normal, which means we won't be in severe drought conditions this summer. Hopefully that means the fire risk is much lower this year, too! Seeing spring right around the corner is a welcome sight. But the change in seasons means preparing your rental for spring.
Now is the time to do those extra maintenance tasks. The bomb cyclone caused storm damage. The high winds blew debris everywhere. Let's take a look at what you need to do this spring for your rental property.
Inspecting your property is important. Concentrate on:
Sprinkler systems and faucets
Windows and doors
Walkways, decks and fences
Roof, gutters, and downspouts
Siding
Sprinkler systems and faucets
Usually by late April, we don't have to be concerned about overnight temperatures that are cold enough to make sprinkler lines freeze. Therefore, it's a great time to get your sprinkler system re-activated and ensure your lawn/plants get some very beneficial moisture! The process is relatively easy, and you can look up very helpful videos online but if you're not comfortable activating the sprinkler system, contact a professional landscaper.
Remove outdoor faucet covers after the last freeze. Make sure it is the last freeze--Colorado can be tricky! It's also recommended you check all outdoor faucets/spigots to ensure there are no problems related to freeze damage. If garden hoses were not disconnected by the first freeze last year, you could have damage causing leaks that may or may not be noticeable on the surface but can lead to big damage if left unattended. If you have concern that any hose bibs may have froze, contact a licensed plumber. Your water bill will thank you.
Windows and doors
Cracks around windows and doors can cause lots of problems that can be avoided if you seal them. On one of my properties, the wind dislodged a storm door, and blew snow through cracks in a window, which caused paint damage inside the room.
Drafts can make air conditioning work harder. Insects can sneak in, causing no end of trouble.
If there are cracks, seal them tight, or replace older windows.
Walkways, decks, and fences
Freezing temperatures and salt can cause the cement in walkways to crack and crumble. Ensure your tenants know to always sweep ice melt/salt off the concrete areas once ice has melted to avoid problem. Check the cement and see if it needs to be patched or repaired. Don't want anyone tripping!
Winter weather weathers wood. (Say that 3 times fast.) Check your wooden structures for warp, rot, and lose boards. See if the paint or stain needs to be renewed. Might as well get a fresh coat of stain on that deck for those Summer BBQ's!
Wind and fences don't get along. Check your fences for loose boards and cracked posts. Replacing them sooner rather than later will keep broken areas from bringing down more of the fence. It can be difficult to get neighbors to share in the cost, but if you have fence damage, start by reaching out to the neighbor to see about splitting cost for repairs.
Roof, gutters, and downspouts
Wind can force water and debris into these areas, causing expensive repairs if it is not caught early. Check gutters for damage and the downspouts for missing pieces. Clean the gutters. Walk over the roof (if comfortable doing so safely) and make sure no shingles were blown off or savaged from the storms. It's a good time to also have a licensed roofer check for damage in case there's significant enough repairs needed that would warrant an insurance claim.
Siding
Moisture is siding's enemy. Keep your siding in good condition so water cannot get underneath it and cause damage.
Vinyl siding should be checked for cracks. Also make sure it is secured to the home everywhere.
For all types of siding, make sure no foliage is touching the house anywhere. Trim it away to give the siding room to dry out thoroughly after rain. Rake soil away from the house if it touches the siding.
Look for moisture damage or worn paint. If you're in a high-humidity area, check for mold.
While you circle the house looking at the siding, check out the foundation as well. Are there any cracks or any other problems? If you find anything, you might want to consult an expert to see if further action is warranted.
Do you need help?
Think about hiring a property management company. Renters with kids and pets love to have outdoor spaces, but if your investment property has a yard, garden, and patio, it needs extra upkeep, especially during the change in seasons.
All Seasons performs Exterior Assessments that include many of these checks 3 times a year for the single-family homes we manage. We also have excellent vendors as resources to use for spring inspections and cleanup, sprinkler system blowouts and startup, and any other repairs that need to be done on your property in the spring.
All you have to do as the owner is check your owner portal to follow our progress. Easy as pie.
Think it's too expensive?
Think again!
Our vendors work for us all year long. We know their prices, and we know they'll do the job right. It won't be any more expensive than if you hired someone yourself, and oftentimes we save you money because our vendors give us very competitive rates and quality service. We also do the vetting to ensure they are properly licensed (if needed), insured, and know the liabilities of working on a "tenant occupied property". This way, you can skip the hassle of finding and hiring that person and you know the job will be done right first time, because we'll make sure of it.
Call All Seasons today and preparing your rental for spring will be a snap! (719) 632-3368