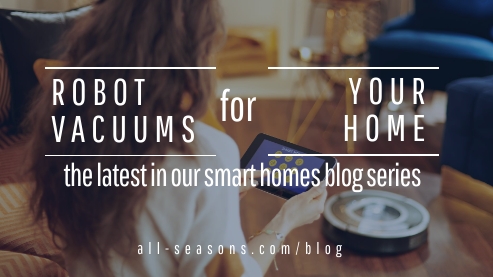 The latest in the All Seasons Smart Homes blog Series
Robot vacuums have come a long way since they were first introduced in 1996 by Electrolux. Back then, the vacuums were expensive and inefficient, although they sparked the imagination. Could there be a time when they'd become good enough to clean our homes for us?
In 2019, robotics take up a whopping 20% of the vacuum market, with 70% of that market owned by iRobot. CNBC predicts that 1 in 10 American homes will own some kind of robot by 2020, with vacuums at the head of the pack. But are they cheaper and more efficient than they used to be?
Cost
Robot vacuums still cost more than traditional vacuums (with some noted exceptions). They can tie into your WiFi smart home scheme to make vacuuming interesting to a tech-savvy person who might shun the job otherwise. Some are programmable from your smartphone, or can be activated with voice assistants.
You can spend as little as $200 for the Ecovacs Deebot N79S. It has powerful cleaning, app control and Alexa command support. On the expensive end of the spectrum, the iRobot Roomba i7+ comes in at $1099.00 with a vacuum that can empty it's own dustbin.
Efficiency
They're almost as powerful as traditional vacuums, using HEPA filters, side brushes, spinning brushes, and dust bins—some of which empty themselves. They can create maps of the rooms, and handle hardwood or carpeted floors.
Some models capture 99% of cat and dog allergens, automatically recharge or empty their dustbins. With voice commands, you can say, "Roomba, clean my kitchen."
Links
Want to know more about robovacs? Here are some links with helpful information.
https://www.pcmag.com/roundup/341251/the-best-robot-vacuums
https://www.consumerreports.org/robotic-vacuums/best-robotic-vacuums-of-the-year/