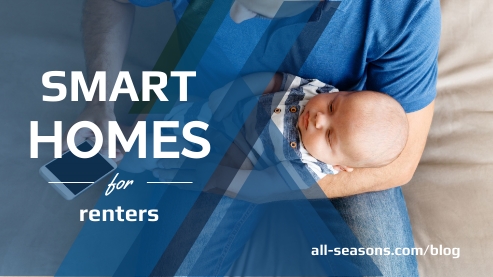 If you rent, you might think that immersing yourself in smart home technology is impossible, because you have to wire in security cameras, thermostats, and outlets.
But there is actually a lot you can do with no hard wiring. The market is full of smart home devices that are portable and wireless, and therefore ideal for renters. Here is an overview of some of the best smart home tech for renters.
Note: Check out more in our smart home blog series by clicking here.
Tips to keep in mind when planning your smart home
1. Keep it simple
To keep moving easy, select multi-purpose technology. Keep the number of devices you use to a minimum.
2. Keep it compatible
Make sure all your devices are on the same network, and talk to each other. Choose a brand and stick with it.
3. Keep it portable
Because you'll eventually move your tech, choose small items that do not require installation. Keep it all wireless and portable.
Renter smart home tech
Keeping the tips in mind, here's what can work well in a rental setting.
Hub/Smart Speaker
Simple speakers like the Echo Dot give you quality music on command, but also connect you Amazon shopping and all of your other Alexa-enabled smart devices. You can control them through the speaker by voice. You can use them individually, or network them to have house-wide music. They can also be used as bluetooth devices, so they can connect to your, TV, or any other bluetooth enabled device. Small and wireless, they're perfect items for a smart rental home.
Light Bulbs
Smart light bulbs can be placed anywhere, inside or out, and controlled through your phone or smart speaker. Allowing you to turn them on and off at will, you can make it look like you're home when you're not. It also makes it safe for your family. They won't have to creep through dark rooms at night looking for a switch—they can just ask the hub to turn on the light. If you want to get fancy, you can get colored bulbs for different moods, and some of them even play music.
Smart Plugs
Smart plugs allow you to make any plug in your home smart. They don't have to be installed, just plugged into an existing outlet. Then if you want to start your coffee pot at 7 AM, just ask your hub to turn on the plug at that time.
Smoke and Carbon Monoxide Alarm
No matter where you live, you want to protect yourself with this alarm. Just set the detector to announce any problems through the smart speaker and your phone, and you'll know instantly about detected smoke or carbon monoxide, whether you're home or away at the time.
Smart Leak Sensor
Small and mobile, these leak detector can be placed near a washing machine, behind a sink, or near your water heater. Place and forget. If water is detected, you'l know right away, before flooding becomes a problem. Some of the detectors will also check temperature, so if your pipes are about to freeze, you'll get the heads up.
Wi-fi Security Camera
Security cameras can be hung outside doors or set in front of windows—they don't have to be installed. You'll be able to call up the feed to see who'd waiting outside your door. Want to use more? Set one up to watch your dog, and check on how he's getting into the fridge while you're at work.
Conclusion
As you can see, there are plenty of smart home products that are wireless and portable, the two main requirements for tech for renters. Once you get the hang of the basics, you'll be able to enjoy your smart home, and move it with you wherever you go.
Want to read more?
Check out this interesting article: Smart home news