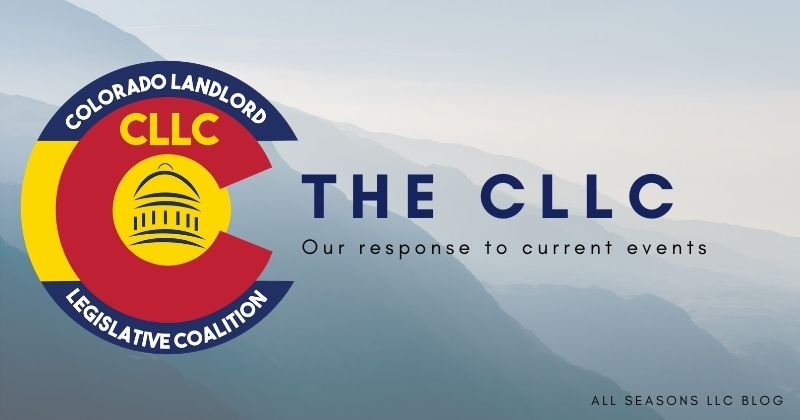 At All Seasons LLC we believe that a good property manager should be aware of the current events that impact homeowners, tenants, and the rental market. That is why All Seasons, LLC has always been active in communicating with legislators. In 2020, All Seasons, LLC has taken our efforts a step further and is one of the founding members of the new non-profit organization, the Colorado Landlord Legislative Coalition (CLLC). The mission of the CLLC is to empower Landlords and Property Managers from all over Colorado.
The 2019 and 2020 Colorado legislative session brought new laws that have changed the way landlords and property managers must do business. Then, the COVID-19 pandemic hit, and new laws and government orders were changing the rules on a sometimes-weekly basis. All Seasons, LLC wants to be able to provide our professional opinion on these changing laws and help educate law makers and protect the interests of our clients and tenants, so we made sure to be involved in the discussions about how we can make a difference. Members of the National Association of Residential Property Managers (NARPM) began trying to put together a plan to raise funds in order to hire a lobbyist to represent single-family and small multi-family landlords. The goal was to become a stakeholder and to have a voice when legislators began negotiating issues for 2021. Through those discussions, the Colorado Landlord Legislative Coalition was formed. The CLLC represents all Colorado landlords and property-managers in the single-family and small multi-family market. Many of the industry stakeholders represent larger multi-family corporations and do not always have the same concerns that the smaller landlord or property manager may have. It was time to stand up for the single-family side of the industry. It is more important now than ever to have a voice going forward. The goal is to push keeping a fair balance between landlord and tenant issues and to provide a good representation of how new laws will affect us, landlords, and tenants. This coalition aspires to bring about positive change for those providing housing and in turn, those who rent.
The CLLC has hired lobbyist, William Mutch, to form relationships and attend legislative meetings on our behalf. We have created an advisory council of landlords, property managers, and attorneys to collaborate and negotiate on bills being proposed to ensure that they are good for the collective whole. If extra demands and costs are put on landlords and housing providers, and there is no offsetting benefit, then the negative affects cannot be sustained.
All Seasons, LLC wants you to know that we are aware of the issues that face our market and we are attacking the problem head on by getting involved and enlisting others to fight with us. We want to be the voice that protects those that we serve. If you are interested in becoming a member of CLLC or learning more about the coalition, please visit https://coloradolandlordlegislativecoalition.org/
CLLC's Mission Statement:
The mission of the Colorado Landlord Legislative Coalition (CLLC) is to empower Landlords and Property Managers from all over Colorado. The CLLC promotes involvement in the legislative process by offering a means to collaborate and negotiate with legislators while educating policymakers about the single-family and small multi-family rental housing industry. The Colorado Landlord Legislative Coalition aspires to create positive change for those that provide housing for others and in turn the renters of Colorado.