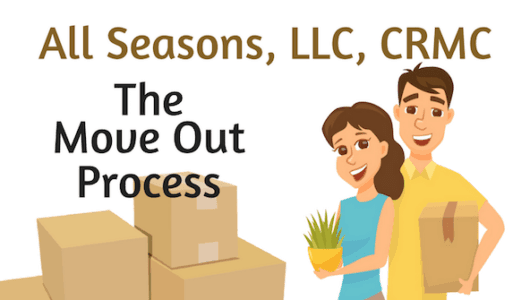 When it's time to go, All Seasons, LLC, CRMC has a well-defined and easy to understand process to follow so that you can have a stress-free move out process. Here's the move out process laid out for you.
How should I tell you I intend to move?
The first step in this process is to give us your notice to vacate. This must be done at least 60 days prior to the date that you wish to vacate and turn possession back over to All Seasons. If you're on an older lease, you may not have the 60-day minimum requirement, but 30-days. Refer to your lease to be certain as to the amount of notice required. Submit your Notice to Vacate using the Give Notice feature on your tenant portal, or by using the Notice to Vacate form. If your vacate date is prior to the lease expiration, please watch the lease-breaking video presentation that also applies. (Either Breaking Your Lease or Breaking Your Lease with Military Orders.)
What happens next?
Once we've received your notice to vacate, we'll email information about the vacate process, as well as our cleaning and move-out requirements. We'll begin to show the property to prospective tenants in your last 45 - 60 days of occupancy, unless you authorize the showings to take place sooner. Our preference is to be able to show the property with only a notification call on the same day. However, if you need more notice, we can call you the day prior to the showing. This may not be a full 24-hours noice, but is permissible per the lease.
Should I stay home for showings?
You can stay at the property for the showings, but are not required to do so. Always make sure that you leave all windows and entry doors locked. In the winter, the thermostat must be set to 65-degrees Fahrenheit. In the summer, please keep in mind that you are to leave the sprinkler system as set by the landscaping company that activated it. Pets should be kenneled in the backyard or off-site for these showings.
How much of my security deposit will I get back?
The only charge certain to be deducted from your security deposit is the cost to re-key the property. Other items that can be deducted from your deposit include, but are not limited to, cleaning, blind cleaning, carpet cleaning, yard work, and repairs or paint that are needed beyond normal wear-and-tear type items. As you know, we have a very strict cleaning policy. To avoid additional charges, it is imperative that you explicitly follow our guidelines that are listed in the cleaning and property standards addendum that were in your original lease packet, and will also be sent to you upon receipt of the notice to vacate.
What companies should I hire to clean the property?
Also in the paperwork that you will receive after submitting your notice to vacate, there will be a list of our preferred vendors that you can hire to do some of the items such as cleaning, blind cleaning, carpet cleaning, or maintenance. These companies guarantee their work with All Seasons, and will go back free of charge to correct any items that were not done to our standards. We highly recommend you hire our preferred vendors if you plan to hire move-out services. Most other companies will not guarantee that their work will meet our strict standards required in the lease, and we will not call them back to fix missed items. Be sure to provide receipts for any work performed by parties related to the move-out, especially if you utilize All Seasons preferred vendors.
Does it matter how I get the carpet cleaned?
Per your lease, your carpet must be cleaned by a company that uses a truck-mounted system, and receipt-proof of same must be provided when you return keys to our office. Otherwise, we will have to hire one of our vendors to perform carpet cleaning, and the cost for same will be deducted from the security deposit. Also per your lease, if you have a pet, the carpet cleaning company must do an enzyme treatment if there is a pet odor after the carpets have been cleaned. Carpet replacement may be required, and therefore performed at your expense.
Should I leave items like toilet paper and hangers there for the next occupants?
No. Be sure all of your personal items have been removed, including things like garden hoses, doormats, planter pots, toilet paper, clothes hangers, toilet scrubbers and plungers. If any personal items are left behind, you will be charged for them to be removed by a maintenance man, hired by All Seasons.
What do I need to return to your office?
Keys are due by noon on the mutually agreed vacate date. Please return any keys, garage remotes, key cards, common entry devices, parking passes and mailbox keys back to our office. If you do not return any of the items that were issued to you at the time of your move-in, you may incur a charge against the security deposit to replace them.
Do I need to be present for the final walkthrough?
No. All Seasons does not do a final walkthrough of the property with vacating residents. Instead, we do a very thorough move-out video of the property to show any issue present upon your move out. We then schedule any work that still needs to be done. If applicable, we use the move-out video in conjunction with the move-in video that was performed shortly before your move in, and the move-in condition report to determine charges against the security deposit.
When will I get the money left in my security deposit back?
The security deposit disposition, along with any refund check will be sent to the last known address we have for you, unless you have provided our office with a forwarding address. Per the lease, this is typically not sent out for approximately 60 days after you vacate. Please refrain from contacting our office for updates on the security deposit, as it only delays the process.
Is this all I need to know?
This blog gives you an idea of how the move-out process works. Please refer to the paperwork sent to you after you submitted the notice to vacate, as well as the lease, for additional information. Action items may change or be different for different properties. We want you to be able to transition your family easily, safely, and with little stress. Call us or visit our Resident Portal if you need more information. If you want to rent a home for your family, call us today! We are the only Certified Residential Management Company in Southern Colorado. We can help your whole family feel right at home. (719) 632-3368