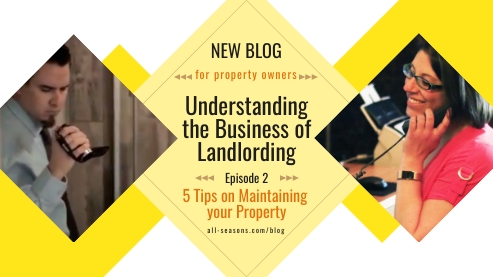 Understanding the Business of Landlording
Episode 2 - 5 Tips on Maintaining your Property
Maintaining your property will keep your investment safe and preserved. All Seasons, LLC, CRMC has over 30 years of experience taking good care of rental homes in the greater Colorado Springs area. We are dedicated to forming long-lasting relationships and strive to provide service that exceeds your expectations. Give All Seasons a call today at: (719) 632-3368 or email us at: Contact@All-Seasons.com.
Residential property management is about making a rental home profitable for the owner. This includes valuing and advertising the available property, maintaining the property's value, finding and nurturing reliable tenants, and handling legal matters like creating a strong lease and dealing with problems that may arise. In this blog, we'll give you 5 tips on maintaining your property.
1. Keeping an Eye Out
If your lease allows it, plan yearly or bi-yearly walkthroughs of your property. Schedule seasonal exterior visits to assess preventative maintenance items such as upcoming need for exterior paint, gutter cleaning, and landscaping needs.
A good time to do this is when seasonal jobs are done, such as heater inspections and sprinkler system blow-outs in the fall. Spring updates are also a good time to inspect external needs. Read our blog about spring updates by clicking here.
2. Resident Move In / Move Out
By thoroughly documenting the state of your property at each tenant move-in and move-out, you'll keep track of the condition of your property and can easily determine who is responsible for vacancy costs that may be needed. Be sure your lease reflects that it is the tenant's responsibility to leave your home clean when they vacate. By being vigilant, you will protect your asset!
3. Vendor Relationships
Make good communication with vendors working on your property a priority and you will have allies on the inside. Ask them to keep their eyes and ears open when they service your property and to let you know of any issues that a tenant may hide from you but not necessarily someone doing work on the home.
4. Handling Emergencies
When an emergency arises, be ready 24/7/365 for action. Handling problems quickly will prevent disasters and more expense.
5. Resident Communication
Providing tenants with easy methods to contact you with maintenance requests will assure fixes are done in a timely manner. Give them several methods, like text, phone, and email. Allow 24/7/365 contact for emergencies to give the tenant peace of mind.
Tenant education will help them understand your requirements for cleaning and yard work, as well as move-out requirements.
Does this sound too hard?
Let All Seasons be your Property Manager, and let us do all of the above and more for you! Give All Seasons a call today at: (719) 632-3368 or email us at: Contact@All-Seasons.com.
What makes All Seasons special?
In business for more than 30 years, we are actively involved and have several designations through the National Association of Residential Property Managers (NARPM) that holds All Seasons, LLC, CRMC to a higher ethical and professional standard. We are a part of the Colorado Legislative Committee as well as members of the Better Business Bureau, Chamber of Commerce, National Federation of Independent Businesses, National Association of Realtors, Colorado Association of Realtors, and the local Board of Realtors. We were the 1st Certified Residential Management Company (CRMC) in Southern Colorado, earning this prestigious certification a decade before any of our competition.
For a more detailed explanation of maintaining a rental property, check out: https://www.mysmartmove.com/SmartMove/blog/rental-property-maintenance.page