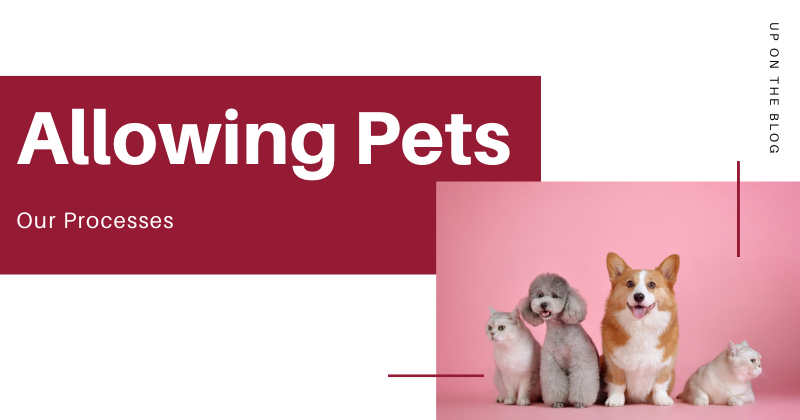 If you are considering renting out your investment property, you will want to think about whether or not to allow animals in the property. If you list your property with All Seasons, LLC, it is up to your discretion whether to allow animals on the premises or not, with the exception of service and assistive animals. These animals do not have any restrictions and are required to be permitted by law.
All Seasons, LLC allows you to determine what restrictions you would like to set in place regarding animals. Whether that is a weight requirement (example: only allowing animals under 50lbs), a limit on how many animals you will allow, or whether it is restricted to the type of animal, i.e. cats, dogs, reptiles, etc.
If you choose to allow pets, we have procedures in place to track animals and minimize the costs of any damage. When a new pet is being added to the lease, we use PetScreening.com which is a third-party company that screens both household pets and service/assistive animals. This helps us know more information about the animal including registration with the county, vaccination status, or if they are considered an aggressive breed. We do not accept any breeds that are considered aggressive. This includes American Staffordshire Terriers (Pit Bull Terriers), Chows, Rottweilers, German Shepherds, Husky, Malamute, Doberman Pinschers, Wolf Hybrids, Bullmastiff, Presa Canario (Canary Mastiff), or any mix of the above breeds.
Animals can be destructive to property and cause urine damage, damage to walls and trim, pet odor, or yard damage. All Seasons, LLC performs routine interior and exterior assessments of the property to identify any animal issues before extensive damage can occur. If during our routine exterior assessments, we note that there is pet damage to the lawn or pet feces that has not been dealt with, we contact the tenants and work towards getting issues resolved as soon as possible. To see how our walkthrough processes protect both owners and tenants, see our article here.
We cannot always avoid all animal damage, so All Seasons, LLC charges additional security deposit for each animal on the lease. If there is pet damage after vacating, the security deposit can be applied towards the cost to repair any damage. All tenants are required to have the carpets cleaned by a professional with a truck-mounted cleaning system at the time of vacate. If there was an animal in the home, then an additional enzyme treatment is also required. This helps keep the property in good condition from tenant to tenant.
Overall, pets are an important aspect to think about when renting out a home. Colorado Springs is one of the most pet-friendly cities in America and 85% of potential residents have a pet. We hope that this overview about allowing pets gives you a better idea of your preferences regarding your property. If you are interested in allowing All Seasons LLC to manage your property, contact our office today at 719.632.3368.