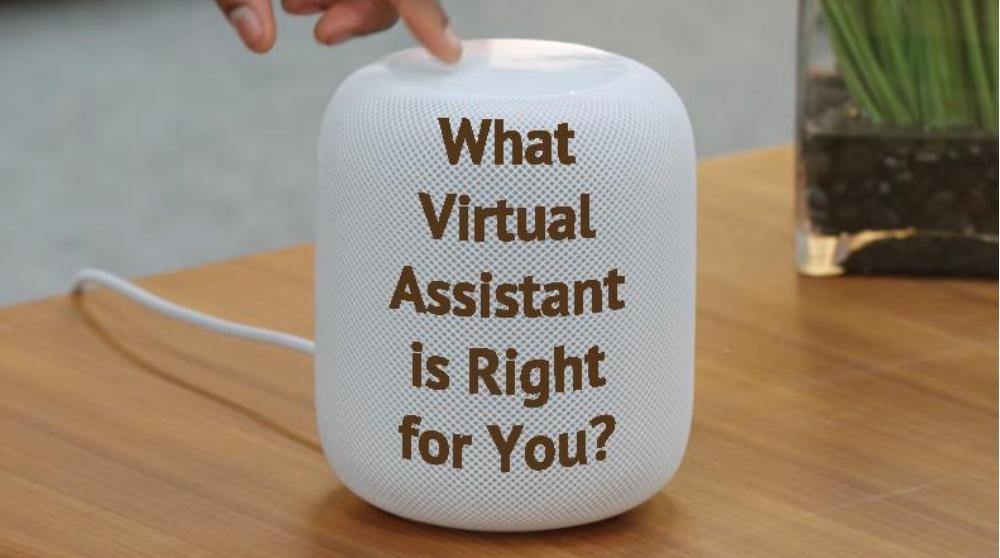 What SmartHome Virtual Assistant is Right for You?
It's a new year, and time to continue our series on SmartHomes. (See links our previous smart home blogs after this article.) If you're renting, making your home smarter is easy with smart speakers that use voice assistants. There are two things to consider: which virtual assistant is right for you, and then how much smart speaker you want.
If you're thinking about buying a smart speaker, where do you begin? Start by looking at which virtual assistant you want to work with. Alexa, Google Assistant, and Siri are most prominent in the market.
The virtual assistants vary according to what you want to use them for. Alexa answers questions and controls your smart home, Google has the power of the Google search, and Siri is mostly for SmartHome control. (Siri professionals claim that Siri was not intended to be a trivia question expert, and it's not!)
If you want a smart speaker for playing music on request, you should get the speaker that goes with your music subscription, that is: Google Assistant for Google Play Music, Alexa for Amazon Music Unlimited, and Siri for Apple Music.
Here are some options. We'll look at the entry-level smart speakers that go with each virtual assistant.
Smart Speakers
The size of the the smart speaker doesn't change the function of the virtual assistant—a small speaker gives you the same access as a large speaker. It is only the sound quality from the speaker that changes. (That is until you get to smart speakers with video, which we'll cover in a future blog post.)
Amazon Echo Dot
The Echo Dot has two big advantages over other fully featured Echo devices: size and price. For $24-$50, this hockey-puck-sized device gives you access to Alexa's SmartHome skills and all of Amazon's built-in features for its virtual assistant.
Drawbacks? The speaker isn't great for music, although it's rated better than the Google alternative. But that's okay! It has an audio-out port for connecting to whatever other speakers and sound system you may have, and it also hooks up to Bluetooth speakers and headphones. you can also add an Echo Subwoofer to boost the bass.
In a recent experiment on Tom's Guide (click here for more results), Alexa edged out the competition in being able to answer 20 trivia questions with the most complete and informative answers. It also controls SmartHome devices with great accuracy.
Alexa also allows multiple users, and you can change the change wake word (in case someone in your household is named Alexa). Alexa only has one female voice. No options there.
Google Home Mini
Powered by Google Assistant with the full power of Google search, this is a good speaker to answer any questions you'd ask Google search, but also helps you run smart devices in your home.
The price is about $30, letting you have access to smart home luxuries without spending too much. Critics like the cute, fabric-covered design and Google Assistant smarts, but say its lack of an audio-out is a major bummer, although it does have bluetooth connections and speakers you can buy specifically for it. The speaker itself is rated at the bottom of the smart speaker list, however.
You can get it with a wall mount or in a set with smart bulbs and plugs to get you going on setting up your SmartHome.
Google Assistant also allows multiple users, and adds a male voice to the menu.
Apple HomePod
Apple has come late to the SmartHome market, and is offering a smart speaker that looks like it's going to be quite different from it's counterparts. What some critics call the dumbest smart speaker on the market, Apple is aiming to provide high quality sound on demand instead of recipe advice.
Siri works with fewer phones, home entertainment products, and smart speakers than Alexa or Google Assistant, but can be a good solution if you live an all-Apple family, and can afford the $350 price for the HomePod.
The HomePod offers extensive home automation support through Apple HomeKit. Siri can't handle multiple users, yet, but can talk back to you in a male or female voice in different accents. (My fave is the male Australian.)
The speaker itself is one of the best on the market, with high quality sound. It plays music from your Apple account or from the cloud, and is the best bet for people who want the speaker part more than the smart part of this smart speaker.
Summary
You don't need a smart speaker to run a SmartHome—many devices can be run from your phone or SmartTV. But a good smart speaker is a great way to move into 2019, where SmartHomes promise to bring us lots of fun and convenience.
Check out our previous SmartHome blog posts:
Colorado Springs SmartHomes
Colorado Springs SmartHomes, Part 2
SmartHomes 2018
For more on the differences between virtual assistants, click here.
For more on smart speaker comparisons, click here.