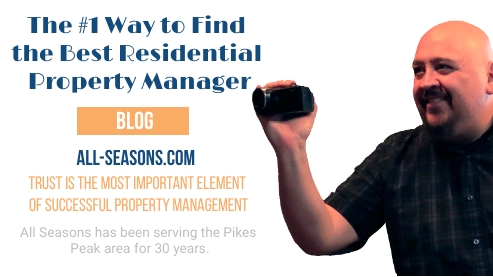 So you have a new investment property, and you'd like to rent it out. In researching the requirements surrounding being a landlord, you decide you want to hire a Professional Property Manager. Good decision! (Check out our blog post Is Self-Managing a Big Mistake for New Landlords? by clicking here.) The #1 way to find the best residential Property Manager is to look at their involvement in the community. If the company contributes positively to the community, has membership in professional organizations and ideally designations through them, and has maintained these positive relationships for a period of years, you've found a company you can trust. Trust is the most important element of successful Property Management.
NARPM® Membership
The National Association of Residential Property Managers, or NARPM®, is the number one Professional Association for residential Property Managers throughout the USA. For anyone wanting to ensure their Property Manager will work in accordance with a strict Code of Ethics and stay educated on all ever-changing industry issues, the company's membership is a must.
Experience
NARPM® awards designations to Property Managers based on experience, training, and involvement in the community where they work. The requirements are vigorous, and take years to achieve. (Read the requirements for designations by clicking here.) So if your Property Manager is a member with at least some of NARPM's designations, you know you're hiring someone who has been in the business for awhile, and knows what they're doing.
Training
NARPM® requires a commitment to training and ongoing education, so you know your property manager is up on the current local and national laws, and the most cutting edge programs and tools for Property Management. You know that if a company holds the NARPM@ designations, they are always learning and growing.
Accountability
NARPM® created the Code of Ethics and Standards of Professionalism for the National Association of Residential Property Managers. All Property Managers who are members of NARPM® must abide by the Code of Ethics and Standards of Professionalism (the "Code"), so you know if your Property Manager is a member, that they have accountability and are held to a higher standard. Click here to read or download a PDF version of the Code of Ethics.
All Seasons LLC, CRMC
How does All Seasons stack up with NARPM®? We are members of the local NARPM® chapter (Click here to see the Local NARPM® chapter website), and many of our staff have served on the board for the local chapter and national committees, showing All Seasons is a local leader in Property Management.
We are certified through NARPM®, have 3 staff members with NARPM® designations as well as a couple working to earn their designations, and were the first to achieve the highest NARPM® rating of Certified Residential Management Company (CRMC) in Southern Colorado, earning the designation 10 years before any of our competition.
Here is summary of All Seasons, LLC CRMC designations from the NARPM® website: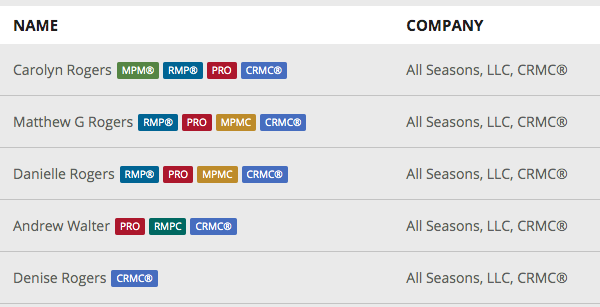 Other Professional Associations
Outside of NARPM®, All Seasons LLC, CRMC is a part of the Colorado Legislative Committee as well as members of:
The local Board of Realtors
When you decide it's time to hire a Residential Property Manager, we'd like to show you how we stack up against the competition. Visit our website at: https://all-seasons.com, and then call us at: (719) 632-3368.
We've helped local property investors to be successful for over 30 years, and we would love to help you!